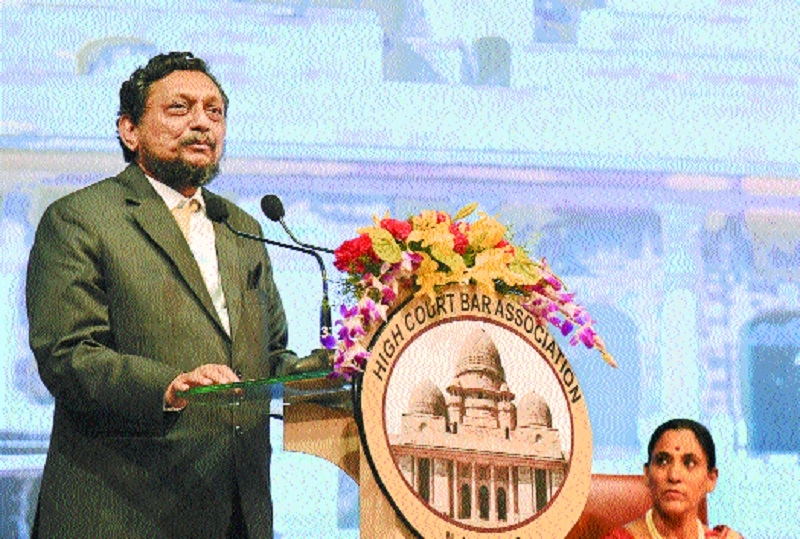 CJI Sharad Bobde
Principal Correspondent :
Bobde family is the institution of legal profession: Fadnavis
"Sharad is the name of a season (Sharad Rutu) which means new essence, new creation. Chief Justice of India Sharad Bobde will provide new essence to justice delivering system," were the words by Maharashtra Chief Minister Uddhav Thackeray while congratulating Justice Sharad Bobde on his elevation as Chief Justice of India. He moved the resolution of congratulation in the State Assembly on Monday. Thackeray said, "It is a sheer coincidence as Justice Bobde hails from Nagpur and in our first session being held in the city, the proposal of his congratulations is moved. No matter how much world praises you, the appreciation by our parents is supreme.
Justice Bobde is being congratulated by this House in his hometown." Praising his love for art, literature, music, Thackeray said, "He is known for his all round personality and India got such a man as Chief Justice of India is a great thing." Thackeray pointed out about one more quality of Justice Bobde wherein he is known for providing justice to the farmers.
"We are discussing the farmer issue but Justice Bobde gave that issue a legal shape," said Thackeray. Calling Bobde family an institution of legal profession of which Justice Bobde is member of third generation, Devendra Fadnavis, Leader of Opposition commented, "Justice Bobde, a true Maharashtrian, our own Marathi man gave us a proud feeling when he was adorned as Chief Justice of India." Making it clear that though Justice Bobde was associated with Nagpur, Fadnavis said, "Justice Bobde born and brought up in Nagpur but basically this family hails from Chandrapur. His father Adv Arvind Bobde occupied post of Advocate General of Maharashtra twice."
Elaborating Justice Bobde's affection and attachment towards the cause of farmers, Fadnavis explained, "Justice Bobde in lifetime never charged a single penny to any farmer while appearing for them in Court. When Sharad Joshi, ran the loan waiver movement, the legal side was looked after by Justice Bobde." Informing about the versatility of Justice Bobde, Fadnavis said, "Justice Bobde is a graduate of Dr Babasaheb Ambedkar College of Law knows many languages, he is a fantastic Tennis player, he is a Sanskrit scholar too. When I was a student of law, I used to attend courts just to see people like Justice Bobde, Adv Manohar, Adv Madkholkar arguing." Fadnavis brought to the notice of House the connection of Bobde family to Swatantryaveer Savarkar when the later stayed at the house of this family of legal luminary. Nana Patole also recollected his memory when he used to meet CJI Bobde in Delhi. Patole described CJI Bobde as a modest and magnanimous personality.
'CJI Bobde worked sensitively on farmers' issue'
Staff Reporter :
The members in the Legislative Council recalled contribution of newly-appointed Chief Justice of India Sharad Arvind Bobde during Congratulatory motion moved by Leader of the House and Minister for Industries, Higher and Technical Education Subhash Desai, on Monday. Desai stated that Maharashtra was proud of its citizen being appointed on the highest position in the court of law. Besides being from the family of legal luminaries, Sharad Bobde has shown that he is sensitive about the issue of the poor, particularly the suffering farmers. He handled all the legal aspects during Shetkari Sanghatna leader Sharad Joshi's movement for making farmers debt-free.
Sharad Bobde is an artist, playing tabla and sports person keenly interested in tennis, which he played regularly. Anil Sole also spoke about his concern for the farmers affected by the vagaries of nature. He quoted some important decisions taken by Bobde, including that no one should be deprived of any benefit for want of Aadhar card. His contribution in the field of education was also stated. Minister for PWD, Social Justice Dr Nitin Raut also spoke about Bobde's contribution and stated that his house was a Law University, where all the books in the field are available and open for law students.
Hemant Takle said that entire nation looks at him as a person who can work for development of various fields, including pendancy of cases in the court, sports and farmers' issues. Takle called him a multifaceted personality. Girishchandra Vyas recalled association of his father with Bobde family from his (Girish's) childhood.
The family is an inspiration to the those working in the field. Sharad Ranpise recalled his initiative to make farmers debt-free and on freedom of speech with reference to social media. He proposed that an Academy for the lawyers may be established by him for the benefit of new lawyers. He also said that Justice Bobde could find solution to pendancy of cases, 80% of which are related to property disputes. Deputy Chairperson Dr Nilam Gorhe said that Justice Bobde is the lighthouse for the people in several social issues confronting the society today. He was instrumental in amendment and implementation of several legislations. She proposed that a programme to felicitate Justice Bobde on behalf of the State Legislature can be organised. Jogendra Kawade, Sadabhau Khot also spoke on the occasion.