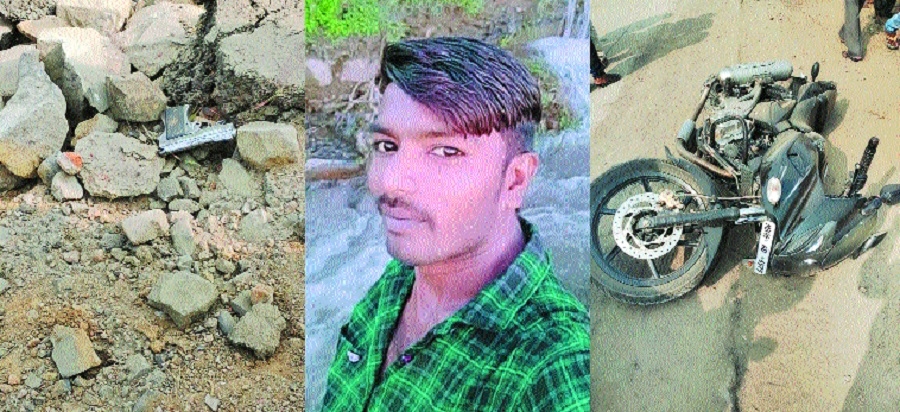 A mouser seized from the spot. Bike of the deceased lying on the road. (Pics by Rahul Tiwari) (Inset) Deceased Mangesh Bagde.
Khaparkheda Correspondent :
The police have recovered 2 mousers from the spot
Two youths brutally murdered a MCOCA accused by smashing his head with a boulder in Khaparkheda area on Sunday morning. The cops have launched manhunt to arrest the accused persons. The deceased was identified as Mangesh Bagde (32), a resident of Sawali village while accused are - Rajesh Pendane (30) and Sachin Chauhan (25), both residents of Bhanegaon village. According to police, Rajesh and Sachin hatched a conspiracy to kill Mangesh over old rivalry.
As per their plan, they started chasing bike-borne Mangesh in their Bolero jeep from Parseoni turning at 10 am. They chased him for more than three kilometers and dashed the bike at Wargeon. The Bolero jeep went off the road and got stuck into a ditch. Though Mangesh fell on the road, he gathered himself and started running for life. The accused again chased him and caught him near Suradevi where they smashed his head with a boulder. Soon after, the goons fled the spot, said police. Staff of Khaparkheda police station rushed to the spot after being informed by locals. Profusely bleeding Mangesh was admitted to hospital where he succumbed to the injuries.
The police have recovered two mousers - one from the Bolero jeep and another near the body of Mangesh. The police said that a bullet was found stuck in chamber of a mousers that was found near Mangesh. "It means that the accused had attempted to fire shot at Mangesh. But the bullet got stuck in the mouser," the officer said. The police have launched searches for the accused. An offence under Section 302, 34 and 3,5 of Arms Act was registered at Khaparkheda Police Station. A police officer said that Mangesh along with his accomplices attempted to kill Rajesh by slitting his throat with a sharp-weapon in year 2017. However, Rajesh had managed to save himself. Soon after, Mangesh was booked under MCOCA by the Rural Police.