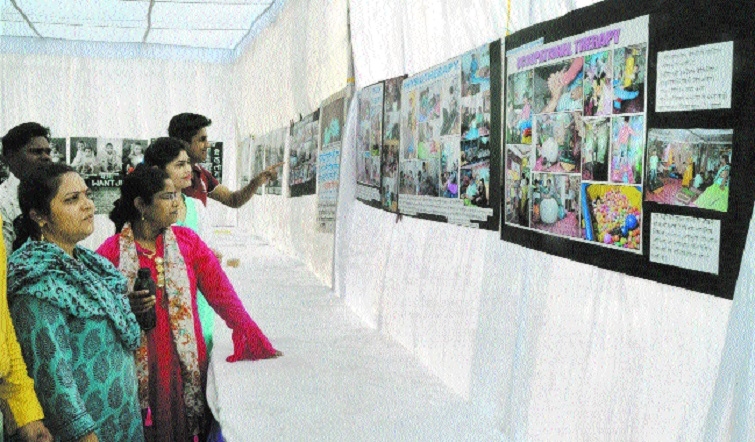 Staff Reporter :
To raise awareness among youth about Bhopal gas tragedy, a poster exhibition and film screening were organised at Iqbal Maidan. Sambhavna Trust organised this exhibition which also presented detailed information about gas tragedy and its after effects especially to the children born from mothers who were exposed to the poisonous gas. Talking to 'The Hitavada' Aziza Sultan, convenor of Sambhavna Trust Awareness Samiti said that it is necessary that the youth of today must realise about the gas tragedy and its affects effects on thousands of local people in Bhopal even after 35 years. There are many issues which still need attention and for that mobilisation at local level is must. Various events including tribute ceremony, prayer meeting film screening, poster exhibition etc will be organised at Iqbal Maidan from December 1 to December 3. There are much stories to be told which is been taught in books and academics and for that it is necessary that younger generation must be informed about crucial environmental issues and worlds worst industrial disaster.
On the intervening night of December 2-3, 1984, toxic methyl isocyanate leaked from the Union Carbide Corporation's pesticide plant here, killing and injuring thousands of people. Lakhs of people are still affected and many are dying. The victims have not been paid adequately by US-based Union Carbide Corporation (UCC) now owned by Dow Chemicals. The victims of the ghastly disaster reiterated their five-point demands adequate compensation, clean-up of hazardous waste lying in the UCC plant site, rehabilitation of survivors, pension to gas victims with proper medical facilities and exemplary punishment to Union Carbide and Dow Chemical.
At least 2,500 out of every 100,000 children born to parents exposed to the gas leakage here in 1984 bear malformations. The representatives working for the welfare of gas survivors said that children be identified and treated. There are many children who were being born with malformations to parents with acute exposure to toxic gas that leaked from the Union Carbide factory or chronic exposure to contaminated water.
The Sambhavna Clinic, run by an NGO, provides free medical care to the survivors of the gas disaster and those exposed to contaminated groundwater, he added. Over 3,000 people were believed to have died in the Bhopal gas leak tragedy that took place on the night of December 2-3, 1984. About 164 children with mental retardation, cerebral palsy, un-descended testes, polydactyly, syndactyly, torticollis and other congenital anomalies have been referred to government and non-government healthcare centres for medical and surgical treatment and many have completed their treatment.