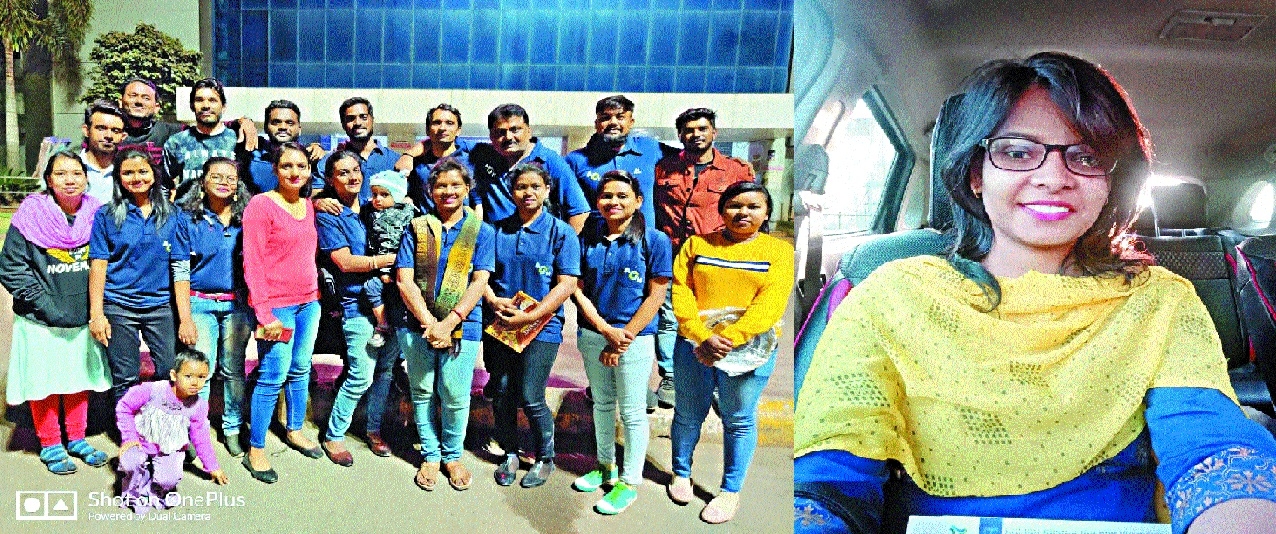 The team that believe in sharing happiness with less privileged. (right) Supria Bara in all smiles.
By Kratika Tiwari :
KORBA,
HUMAN life is an endless cycle of bright sunlit days of joy and cold winter nights stained with tears. While these phases are faced by every human being, what places each of them apart is their way of handling these circumstances. Several books and lifestyle guides dictate us on battling the inner negativity by spreading positivity. However, only a few manage to do so. One such example is presented by a group of youth at power hub, who recognise themselves under the name 'Act of Humanity'. Founded by a girl who battled depression for long time, the group feeds about 600 people every month.
These include the inmates of Kushth Ashram and Prashanti Old Age Home, along with the beggars at Sitamani, old bus stand and Sarwamangla temple. Apart from this, they are also known for organising other tasks like blanket or cloth distribution. The tale of this group started with Supriya Bara, who has battled against depression for a long time. Talking to The Hitavada, she said that various ups and downs in her life pushed her in the dark pit of depression and she found herself in a hospital after attempting suicide. Slowly, while she continued with all treatment for her condition, the real help came from helping others. She said that the spirit to help others had been an integral part of her life. She would never return a beggar from her doorstep without feeding him.
This practice proved to be a crucial support system in the darkest period of her life. She realized that the negativity in our own life can be defeated by spreading positivity around us. She contacted her school friends. Ruhul Khan and Renu Bakhla joined her in her endeavour. The three used to pool money and feed any needy person they found. Gradually, they started shifting their attention to other needs of such people like clothing, warm sheets and books for children.
The group grew in numbers as well as in their efforts. Shrijit Nair, Indu Prabha Kanwar, Aditya Shukla, Anupama Toppo, Sudhir Vishwakarma, Nisha Singh, Ajay Tankeshwar, Rosaline Gallyer and others are some active members of the group. These young boys and girls shoulder the responsibility of feeding all the inmates of Kushth Ashram and Prashanti Old Age Home on Saturdays. The meal includes rice, curry, chapatti, dal and pickle. The entire food is prepared in a hotel in Niharika area. Ruhul Khan said that the hotel is run by a poor family and we pay them for preparing this meal. Thus, we are able to help them in earning their living through honest labour. He said that special attention is paid towards maintaining cleanliness and the entire food is transported through auto-rickshaw.
Most members of the team are working at various positions and they pool some part of their income for this purpose. Supriya said that they have taken up a tag line- "See, Feel and Act". Though they continue with their weekly task of feeding the hostel inmates, they are always vigilant about any other area which might present them a chance to serve others. Their activities are receiving major positive feedback and people contact them on face book and other media for charity purposes on birthdays and other occasions. She said that such initiatives are welcomed by their group as it is a very kind gesture to share one's happiness with the less-privileged members of society.