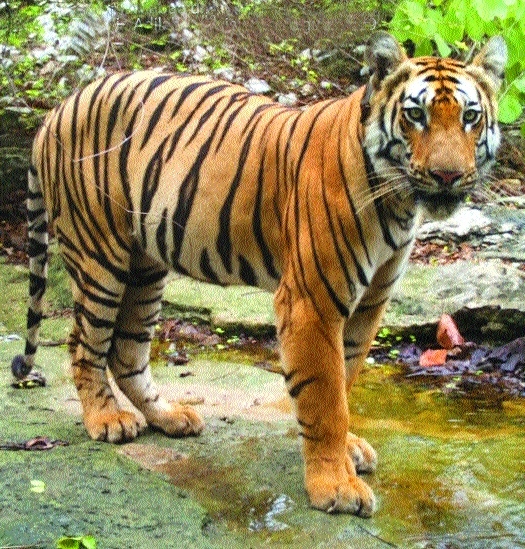 Special Correspondent :
A sub-adult tiger TWLS T1-C1 of Tipeshwar Wildlife Sanctuary in Yavatmal district, who was radio-collared on February 27, 2019, has now reached to Dnyanganga Wildlife Sanctuary in Buldana district after crossing a distance of 1300 km in about five months. The tiger moved out in June 2019 and after crossing Pandharkawda Forest Division, the beast started further journey along the corridor and reached Adilabad, Nanded, FDCM Kinwat. The big cat spent considerable time across inter-state forests of Adilabad and Nanded Forest Divisions during August and September.
It subsequently entered Painganga sanctuary for a brief period. Afterwards, in October C1 tiger moved out and went to Pusad division and then to Isapur sanctuary. In the last week of October, the beast entered Hingoli district of Marathwada area, says a press note issued by Dr Ravikiran Govekar, Field Director, Pench Tiger Reserve and In-charge of Tipeshwar sanctuary, on Sunday. With regular movements along mostly forested patches and water streams and negotiating large agricultural fields left Hingoli and entered Washim district. The tiger, now three-year-old, entered Akola division in early November and then in Buldana division in late November. After reaching close to Chikhali and Khamgaon, the tiger has finally made its way into another well managed Protected Area - Dnyanganga Wildlife Sanctuary on Sunday. The Field Director of Melghat Tiger Reserve, M S Reddy, has confirmed that the satellite location obtained is inside Dnyanganga sanctuary.
Since Dnyanganga is a well-managed wildlife area, having good prey base, it is expected that the tiger may spend some time here and explore the area. The wild animal is just about 50 km away from Melghat landscape, informed Govekar. It is worth noting here that the tiger while travelling more than 1300 km distance, crossing hundreds of villages, agricultural fields and habitations in six districts falling in two States, has not entered so far into any conflict with humans except the cattle kills that it made for survival and an isolated avoidable incidence of human attack when the villagers approached very close to the tiger in Hingoli district.
It is worth noting that another sub-adult tiger from Tipeshwar (2016) has been camera trapped in Kawal Tiger Reserve in January 2019 by Telangana Forest Department. Also the third cub C2, which was not radio-collared, has also covered considerable distance and was reported from Painganga sanctuary. The T1-C1 was born in Tipeshwar to resident female TWLS-T1 somewhere in late 2016 along with two male siblings C2 and C3. All the three cubs were separated in early 2019. As a part of long term tiger monitoring and dispersal studies undertaken by Maharashtra Forest Department in collaboration with Wildlife Institute of India, Dehradun (Studying the dispersal of tigers across the eastern Vidarbha landscape), C3 was radio-collared on February 25 this year and C1 on February 27 by a team of the institute, led by Dr Parag Nigam, Dr Bilal Habib and Field Director, Pench Tiger Reserve. The purpose of the study was to monitor the dispersal pattern of the sub-adults which are normally in the process of exploring new areas to set up their territory.
After initial movements inside Tipeshwar, C3 and C1 started exploring adjoining Pandharkawda division and bordering Telangana area. In mid-July, C3 migrated towards Telangana and went very close upto Adilabad town but instead of settling down there the animal returned back to Tipeshwar within ten days. It has now settled in Tipeshwar. Nitin Kakodkar, Chief Wildlife Warden, and B S Hooda, Addl PCCF (Wildlife), East, Nagpur, extended guidance to the officers concerned in these activities. The excercise further underlines need of systematic, scientific and coordinated tiger monitoring at a landscape level irrespective of the State or district broundaries, Govekar pointed out.