NEW DELHI :
The Swedish king and queen, were scheduled to arrive on their State aircraft, but due to a technical problem with the aircraft, Air India chipped in to ferry the Swedish royal couple
IN A pleasant surprise to fellow passengers, visiting Swedish royal couple King Carl XVI Gustaf and Queen Silvia arrived in India on board an Air India commercial flight from Stockholm, and carried their own bags after landing at the airport here on Monday. "Very Proud moment for Air India when we had a Special Guest onboard. His Majesty Carl Gustaf Folke Hubertus , King of Sweden and Her Majesty Silvia Renate Sommerlath travelled AI168 Stockholm to Delhi. Ms. Sangeeta Sanyal Country Manager Sweden greeted the Royal guests," the flag carrier tweeted.
The Swedish king and queen, who are on their second five-day visit to India after 26 years, were scheduled to arrive here on their State aircraft. However, they arrived in a direct commercial flight of Air India from Stockholm to New Delhi Monday morning. "The reason for the change was that there was a technical problem with the State aircraft," a Swedish official said. On arrival, they were greeted by country manager of Air India Sangeeta Sanyal. Air India also tweeted photographs of the royals shaking hands with an airline official, while disembarking at the Delhi airport, and holding their cabin baggage. An Air India crew member, also tweeted: "Imprinted in Swedish snow the name of Indian Flag Carrier. Coincidentally today onboard Air India we had Royal Guests: King Carl XVI Gustaf & Queen Silvia of Sweden flew AI-168 Stockholm to Delhi.
The Royal Couple were very appreciative of our inflight hospitality..." The Swedish royal couple arrived here on a five-day state visit and were accorded a ceremonial welcome at Rashtrapati Bhawan. It is the fourth high-level exchange between Sweden and India since 2015 when former President Pranab Mukherjee was on a historic first state visit to Sweden. In 2016, Swedish Prime Minister Stefan Lofven visited India and in 2018 Modi visited Sweden. The images of the Royal couple carrying their bags after disembarking the aircraft immediately went viral with Twitterati drawing parallels with VIP culture in India. "Kings & queens in civilised constitutional monarchies have less royal paraphernalia than elected PMs in many democratic republics," James Mathew who goes by Twitter handle @chackowacko commented. "If anything the so-called people in power should learn from them, both are old but unlike ruling class they don't have ego. Here even a young lad would ask a govt. Servant to tie their shoes let alone carry the luggage," another Twitter @ayushapoorva said.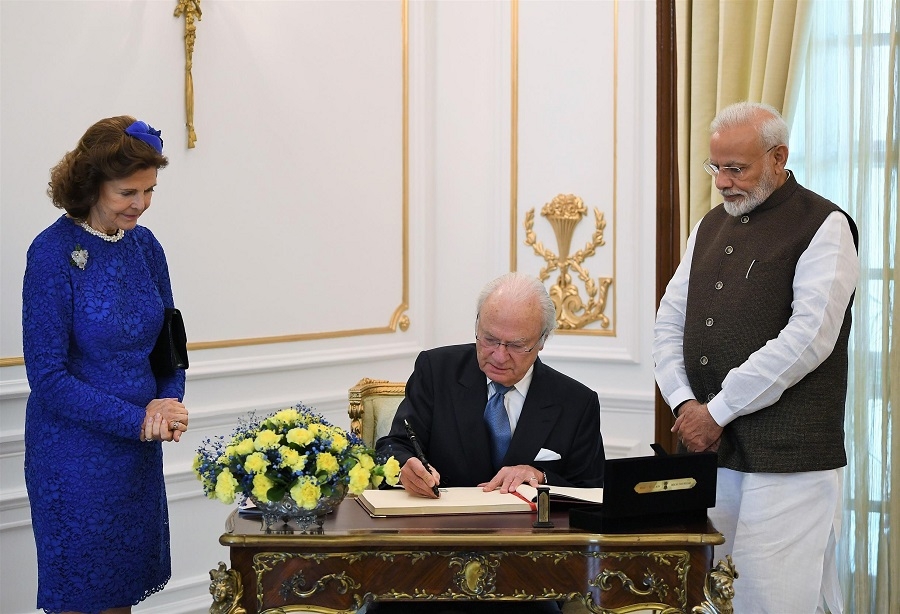 India, Sweden resolve to expand overall ties, ink 3 pacts
NEW DELHI :
SWEDISH King Carl XVI Gustaf on Monday held extensive talks with President Ram Nath Kovind and Prime Minister Narendra Modi to expand overall bilateral cooperation in diverse areas including in trade and investment, innovation and culture. After talks between the King and President Kovind, the two sides inked three pacts providing for cooperation in polar science, innovation and research and in maritime spheres. Modi and King chaired a meeting of India-Sweden High-Level Policy Dialogue on Innovation Policy during which both sides discussed ways to expand engagement in research and development. The King, accompanied by Queen Silvia and a high-level delegation, arrived on Monday morning on a five-day visit. "Delighted to meet Their Majesties King Carl XVI Gustaf and Queen Silvia.
We had extensive discussions on boosting cooperation between India and Sweden. Closer economic and cultural ties between our nations will greatly benefit our citizens," Modi said in a tweet. External Affairs Ministry Spokesperson Raveesh Kumar said that the two leaders emphasised the role of collaborative technological innovation between the two countries and future challenges. He said that focus of the talks was to chalk out a blueprint for linking innovation with aspirations.
Officials said that the talks were aimed at boosting bilateral cooperation in diverse areas including in trade and investment, innovation and and culture. External Affairs Minister S Jaishankar also called on the King and Queen after their arrival and held discussions on ways to deepen bilateral ties. Jaishankar also held a separate meeting with his Swedish counterpart Ann Linde and resolved to step up cooperation to combat challenge of terrorism.