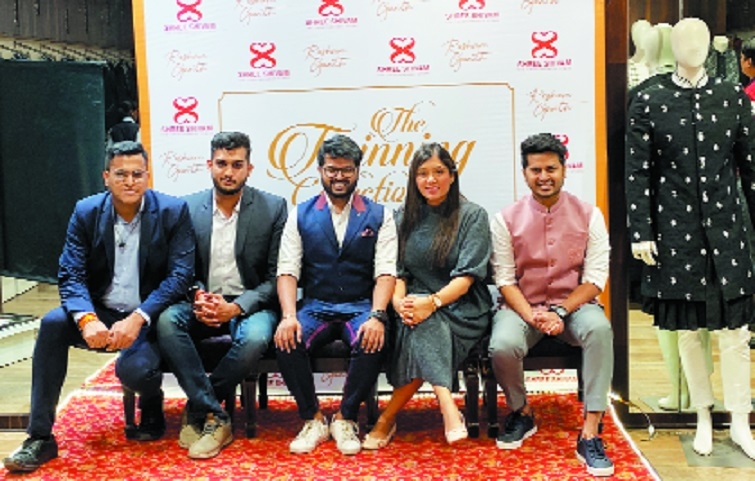 Business Bureau :
The well-known apparel store in Nagpur Shree Shivam Store tied up with famous designers Etch Collections from Mumbai for its wedding collections named Reshamgath-The Twinning Collections. The collection was launched on Sunday at Shree Shivam apparel studio in the presence of couples who also walked the ramp. General Manager of Shree Shivam Store Ashish Motwani said Shree Shivam Store in association with Etch Collections has launched the trending twinning collections from metro cities in two tier cities like Nagpur, Raipur, Bilaspur, Bhopal and others.
The families who have a wedding on cards can choose twin collections from Etch collections through Shree Shivam Store. They can also buy readymades from Zep Studio which is wholly owned by the designers of the Etch Collections, namely, Harsh Chheda, Heet Chheda and Divya Chheda at Ghatkopar and Mumbai. This Made For Each Other Collections will be available only for the valuable customers of Shree Shivam, Ashish Motwani said.
The price tag of twinning collections 'Reshamgath' varies from Rs 8,000 to Rs 50,000. Similarly women's collection is also available in the range from Rs 2000 to Rs 90,000, he added. The buyers who want to purchase customised or ready-made twinning collections from this Zep studio can provide their measurements to Shree Shivam Store one month in advance of wedding and pre-wedding dates. Shree Shivam also offers You Dream, We Design Concept, Profit Centre Head of Shree Shivam Store Piyush Bhutada said. Designers of the Etch Collections, namely, Harsh Chheda, Heet Chheda and Divya Chheda were also present.