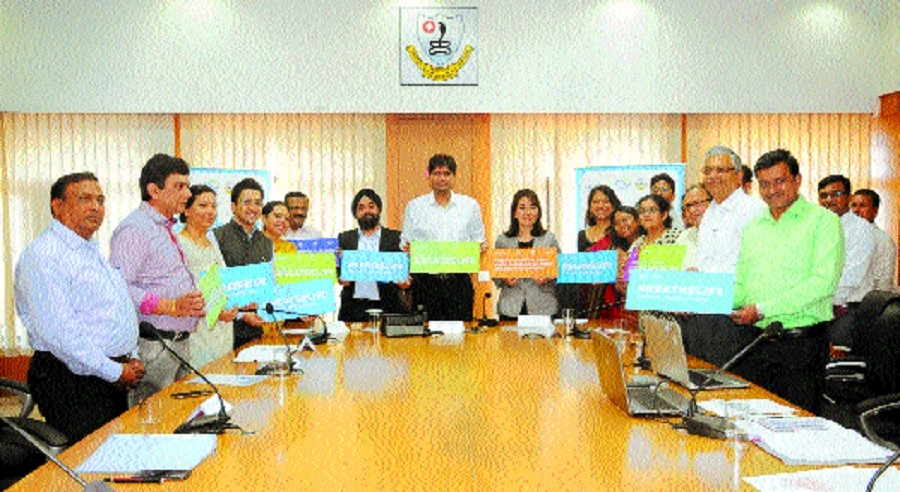 Staff Reporter :
ON Thursday, Nagpur officially joined World Health Organisation (WHO) Breathe Life Network. Nagpur Municipal Corporation (NMC) and Clean Air Asia (CAA) India signed a Memorandum of Understanding (MoU) for working together on curbing air pollution in the city. After signing the MoU, Abhijit Bangar, Municipal Commissioner, said that he would soon discuss the issue with office-bearers of NMC and formulate an action plan to curb air pollution. Pointing out that there were norms relating to air pollution, he announced to verify if the work was going on in the city in accordance with those.
He assured to take special efforts to curb air pollution. Payden, Deputy Director, South East Asian Regional Office, WHO, said that emission from coal-fired power plants was dangerous for people and many were suffering from respiratory diseases.
Quoting a survey of Indian Council of Medical Research, she said that people were losing life due to air pollution. Against this backdrop, she said, the MoU between NMC and CAA would be significant. Prarthana Borah, India Director, CAA; Hema Deshpande, Sub-Regional Officer of Maharashtra Pollution Control Board; Leena Budhe of Centre for Sustainable Development; Devendra Mahajan of Smart City project; Dr Sameer Arbat, Asha Lalwani of National Environmental Engineering Research Institute, Manjit Saluja, and other officials of NMC, CAA, and other agencies were present. CAA is implementing Breathe Life campaign. It is a campaign launched by WHO, UN Environment and the Climate and Clean Air Coalition to raise awareness on 'the threat air pollution poses to our health and climate', stated an official press release. CAA is supporting WHO India on strengthening Breathe Life Network in Indian cities.
Breathe Life campaign aims at engaging cities and Governments and set air quality targets, inform citizens of actions they can take to reduce their contribution to air pollution and protect themselves and support health and environment sectors. The drive targets major sources of air pollution, and multiple health risks including from transport, energy, waste, agricultural sectors. Recently, under Breathe Life campaign, CAA-India and WHO-India, in partnership with NMC, organised a training programme for officials of NMC. It focussed on health impacts of air pollution, air quality monitoring and standards, introduction of Breathe Life campaign and group activities.