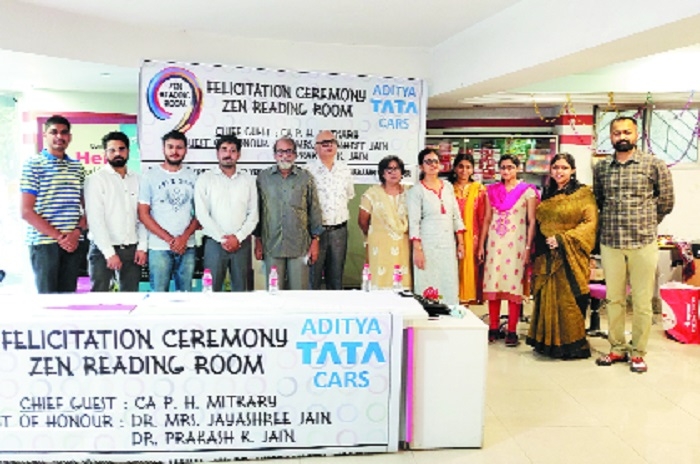 Business Bureau,
Zen Reading Room is a unique first-of-its-kind place of the city which provides a peaceful space with unparalleled facilities, enabling the students to enhance their learning process with focus in a serene environment. Zen Reading Room started two years ago at VIP Road Dharampeth, Nagpur and in no time it became very popular among the students appearing in various competitive exams - it boasts of more than 250 students presently. It is a matter of great pride for the city which has become an education hub to have such a wonderful place for the process of better learning.

It is worth noting that most of Zen students are successful with flying colors. As a tradition Zen is organizing a felicitation programme for their meritorious students with an object to motivate them for a bright future. This year also Zen organised a felicitation programme for its meritorious students who just became professional chartered accountants.

The chief guest of the ceremony was CA P H Mitkary – Founder Member, Faculty and Director of CAPS, Nagpur.
Guests of honour were Dr Prakash Jain, the brain behind the concept of Zen – a skilled academician, and a businessman par excellence, Dr Jayshree Jain, who is a Ph D scholar as well as one of the first women entrepreneurs of the city and CA Akruti Shroff, who has been with Aditya Hero for 14 years. Zen Reading Room is located above Just4Her (AdityaHero) Showroom, VIP Road, Dharampeth, Near Bhole Petrol Pump. For further details, interested persons may call on mobile number 8007361666.