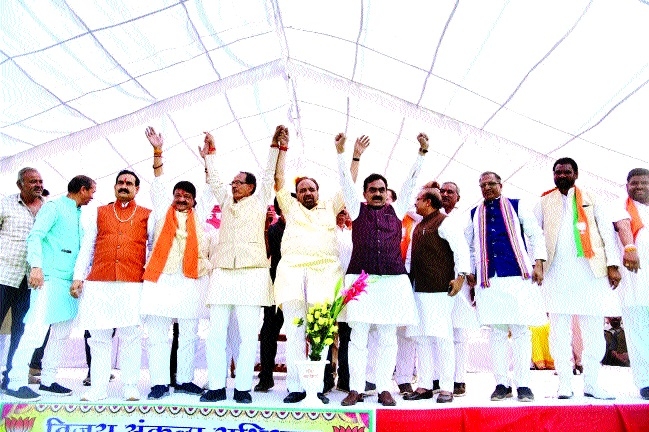 Staff Reporter,
A GRAND 'Vijay Sankalp' rally keeping in view forthcoming Lok Sabha elections was taken out by BJP at Sarvaniya Maharaj, Neemuch, on Sunday. Former Chief Minister Shivraj Singh Chouhan, State BJP President Rakesh Singh and Leader of Opposition in Vidhan Sabha Gopal Bhargava addressed the meeting and attacked the Congress Government.
BJP National Vice-President and former Chief Minister Shivraj Singh Chouhan addressing 'Vijay Sankalp Sabha' said that Prime Minister Narendra Modi has openly said that if any country provokes India then they would be taught a lesson. Chouhan said that Indian Air Force (IAF) jawans when succeeded in airstrikes in Pakistan then Congress asked proof. He said shame on those who disrespect martyrdom of jawans. Congress leaders said that it was an accident but BJP will not let anyone dishonour brave forces of India. Shivraj Singh Chouhan said the Opposition has no leader against Prime Minister Narendra Modi.
State BJP President Rakesh Singh said that India is getting support and is being lauded on global level and it is a matter of pride for all the Indians that the Indian Army is recognised among powerful armies of the world. He said no country could dare to look towards India with bad intention because India is ready to tackle any situation. Rakesh Singh said within few months of Congress regime, law and order in the State deteriorated, fake cases are being lodged against farmers and BJP activists. Singh appealed to the party activists to pledge to hoist the party flag across the country.
Leader of Opposition in Vidhan Sabha Gopal Bhargava said that Lok Sabha elections is neither to elect Narendra Modi as the Prime Minister nor supporting BJP to form government but it is to take India on the path of progress and to make its borders strong. He appealed to the people to vote and support Modi Government to continue the flow of development works.