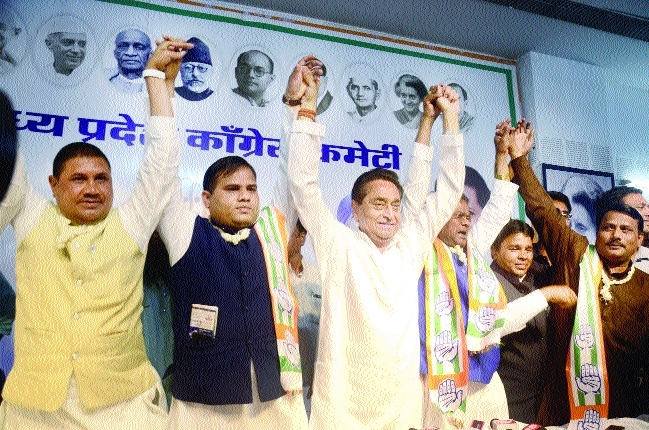 Staff Reporter,
MANY BSP workers including former Member of Parliament (MP) Devraj Singh and former BSP State President Pradeep Ahirwar joined the Congress in presence of Chief Minister Kamal Nath in the State capital on Sunday.
Welcoming them to the party, Chief Minister Nath said that they are like family members of the party and claimed that the Congress Government is the Government which fulfills its promises and everyone has seen works done by the Government in 76 days.
Names of other BSP workers who joined the Congress includes Satyaprakash Jatav, Babulal Pehalwan, Ravindra Kumar Patel, Pohap Choudhary, Manju Saraf, Komal Prasad, Ramsevak Damle etc. Expressing happiness on BSP workers joining the party fold. Chief Minister Kamal Nath said that it is a matter of happiness for him that BSP workers have joined main stream party which is dedicated for development. "They have not come to join the Congress rather they support the truth," he said.
Going retrospective, he said that it was 35 years ago that Mahajan Commission was formed and report was prepared but to no avail. "I have decided not to do announcements. Madhya Pradesh is the first State where ordinance to provide 27 per cent reservation to OBC has been issued. It is the Congress which did reservation for OBC, SC and ST," he said.
Targeting Prime Minister Narendra Modi, he said "PM Modi talks about teaching lessons of nationalism to the Congress. He should name at least one freedom fighter of his party. Congress thinks about labourers and BJP about big contractors and industrialists," he added.
BSP workers who joined the Congress said that the Congress is the only future of State. They also said that they were influenced by the working style of CM Nath and hence left BSP to join the Congress.
On the occasion, Congress Vice-President Chandraprabhash Shekhar, Prakash Jain, Rajeev Singh, Media Department Chairperson Shobha Ojha, Bhupendra Gupta, Abhay Dubey and others were also present. Meantime, BSP's Rajaram told 'The Hitavada' that former BSP State President Pradeep Ahirwar was sacked by the BSP after Assembly elections. "Those who could not be of their parent party, how they can benefit the Congress, they will only damage it," he alleged.