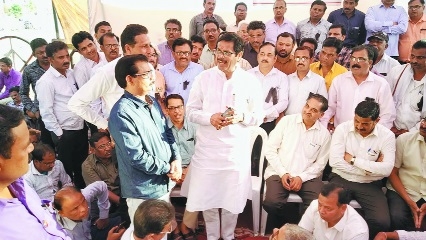 Business Bureau,
The indefinite strike of Nagpur District Central Co-operative Bank (NDCCB) employees ended on Friday evening after Maharashtra Chief Minister Devendra Fadnavis intervened. It was because of the his intervention the bank management has agreed to fulfill demands of the employees. The employees of the bank were observing strike under the banner of Maharashtra State Co-operative Bank Employees Union from March 5 demanding annual increment from 2015.
During the protest, MLAs Sudhir Parve and Sudhakar Kohale; MLC Girish Vyas and Anil Sole visited the employees and take a note of their grievances. MLA Sudhakar Kohale and Sandeep Joshi, Leader of Ruling Party of NMC along with the representatives of the union recently met Chief Minister Devendra Fadnavis at 'Ramgiri'.
Fadnavis directed MLC Girish Vyas and Anil Sole to take the matter with the management of NDCCB immediately and resolve it. Chief Minister also assured the NDCCB employees that their problems were genuine and they would get result within two days.
A meeting was fixed on March 8, with Praveen Wankhede, Chairman of the Bank, Girish Vyas, Anil Sole and employees of the bank at the office of Divisional Joint Registrar Co-operative. After a long discussion over the demands of the employees, Chairman Wankhede, agreed to the legitimate demands of the employees and also assured the employees that during the board meeting scheduled on March 15, notification for payment of arrears due will be taken.
Chandrakant Rote, Secretary of the union informed The Hitavada that, it has been decided and agreed that the arrears and DA amount from April 2014 to March 2018 will be given in the form of fixed deposit, and April 2018 to August 2018 i.e. the five month increased amount was to be given with the salary before April 15.He added that with the promise by the Chairman the union has decided to end the strike on March 8.
Vijay Shahane, President, Kishore Asatkar, Milind Ghormade, Jayant Admane, Prashant Salunke, Sharayu Kalbande, Prakash Meshram, Prashant Dahake, Ramesh Ingole, Pramod Fulbandhe, Anup Patil, Vijay Bhosle, Rajesh Wankhede has thanked Chief Minister Devendra Fadnavis, all MLA and MLCs and public representatives, Vilas Trivedi, General Secretary, Bhartiya Mazdoor Sangh, employees of the bank for his support.