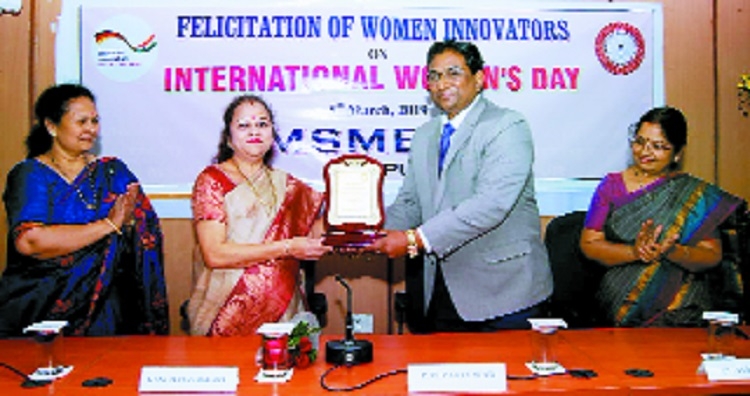 Business Bureau,
MSME-Development Institute (MSME-DI), Nagpur celebrated International Women's Day in association with GIZ, German Corporation. The objective was to felicitate the women entrepreneurs who are having innovative ideas and working on innovative products.

Around 22 entries from women entrepreneurs were invited who are working on innovative ideas and all 22 were felicitated during the programme as to encourage them and acknowledge their work. Kanchan Nitin Gadkari was the chief guest of the programme. P M Parlewar, Director of MSME-DI, Nagpur presided over the function. Dr Yogita Kasture, Consultant, GIZ, Pushpa Dhande, social worker and Anjali Mule were also seated on the dais.

Speaking on the occasion, Kanchan Gadkari appreciated Director MSME-DI, Nagpur for acknowledging the efforts of women entrepreneurs who are doing something innovative and encouraging them for providing an opportunity to commercialise their innovative products.

She said, "The time is right for women entrepreneurs to come forward in entrepreneurship because women have good managerial skills and have greater risk-taking ability. Women are born leaders, planners and managers. They can be better entrepreneurs. Rather than seeking jobs, they should be able to provide employment to others."
She urged the women participants to dream big and work hard to achieve their goals. Women need proper guidance.
For this she, said marketing and communication skill are needed. She appreciated the women entrepreneurs who were felicitated for venturing into business with innovative ideas and wished them good luck for the future.

P M Parlewar welcomed all the women participants on the day of International Women's Day.
He said, in the present scenario, women entrepreneurs could play an important role in nation building. He informed that MSME-DI, Nagpur organises various skill development programmes exclusively for women. There are various schemes where subsidies are offered for women entrepreneurs. But there is lack of awareness amongst women entrepreneurs about the schemes.

He appealed to all the women participants to take maximum advantage of the schemes offered by MSME-DI, Nagpur. He said that all the women entrepreneurs who were felicitated for their innovations have been taken note of and MSME-DI Nagpur will extend all possible help to them under the scheme of 'Business Incubation.'
Parlewar said that while starting an enterprise there would be problems and obstacles. But women should take problem as a challenge by giving more stress on innovation and skill development.

Dr Yogita Kasture also spoke on the occasion, She said, women should be ready and prepared for hard work as there is no shortcut to success. "Now a days in the field of entrepreneurship innovation is the key," she added.

She appreciated MSME-DI, Nagpur for acknowledging the contribution of women entrepreneurs which will definitely boost their confidence and help them and other women to become successful entrepreneurs. Women entrepreneurs who were felicitated shared their views and experiences with other participants during the programme. The programme was co-ordinated by Parineeta Pandhram, Assistant Director, MSME-DI, Nagpur and Sujata Takalkar MSME-DI, Nagpur proposed vote of thanks. The programme was well-attended by people. MSME-DI, Nagpur continously organises workshops.