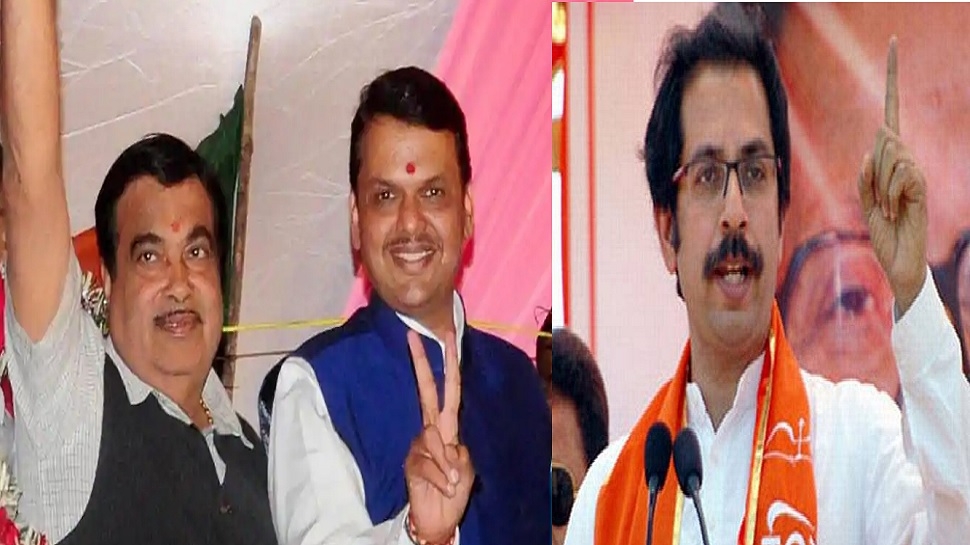 Staff Reporter,
For the first time in last five years, Chief Minister Devendra Fadnavis and Shiv Sena President Uddhav Thackeray along with senior BJP leader and Union Minister Nitin Gadkari will share political platform at Nagpur on Friday. During official functions and some social functions, these leaders had shared the platform in the past, but after seat sharing arrangement was finalised, senior Sena and BJP leaders have decided to undertake joint tour and address workers convention jointly as was the practice before 2014. The senior leaders of BJP and Shiv Sena will address elected representatives and prominent office bearers at a convention at Dr Vasantrao Deshpande hall on Friday at 2 pm. All the elected representatives of East Vidarbha including MPs, legislators, corporators, Zilla Parishad members, district presidents and organisational chiefs have been invited to attend the convention, which is sort of election launch of BJP-Sena for Vidarbha region.
In Vidarbha seven Lok Sabha seats including six from east Vidarbha including Nagpur, Ramtek, Bhandara-Gondia, Chandrapur, Gadchiroli, Wardha, and from West Vidarbha Yavatmal-Washim seat will go for polls in the first phase while Amravati, Akola, and Buldhana Lok Sabha seats will go for polls in second phase on April 18. Chief Minister Devendra Fadnavis and Shiv Sena President Uddhav Thackeray will start their state-wide tour from Vidarbha region on Friday addressing a joint meeting at Amravati in the morning followed by Nagpur at 2 pm. The formal launch of campaign is slated on March 24 from Kolhapur. In 2014, BJP-Sena combine had registered a spectacular victory in Vidarbha region by winning all the 10 Lok Sabha seats. The BJP and Shiv Sena combine candidates had trounced the Congress-NCP heavyweights in 2014 with huge margin and the same performance was repeated few months later when BJP and Sena fought separately. BJP-Sena alliance had stunned the Congress-NCP in 2014 Lok Sabha polls and had bagged 41 out of 48 seats while its alliance partner Swabhimani Party won from Hatkanangale. Coming together of BJP and Sena leaders on one platform, is aimed at giving right message to party cadre. Both the parties have invited 100 workers each from six Lok Sabha seats for Nagpur meet and similar pattern has been followed at Amravati.
Though BJP and Sena are yet to formally declare their candidates, very few changes are expected. BJP is fighting on six seats- Nagpur, Wardha, Gadchiroli, Chandrapur and Bhandara-Gondia and Akola while Sena is fighting from Amravati, Ramtek, Buldhana and Yavatmal-Washim. Uddhav and Fadnavis are also slated to address joint meetings at Aurangabad (Marathwada region) and Nashik (North Maharashtra) on March 17 followed by Pune (Western Maharashtra) on Monday morning and New Mumbai (Konkan region) to enthuse the party machinery and to give a signal of strong partnership between two natural friends.