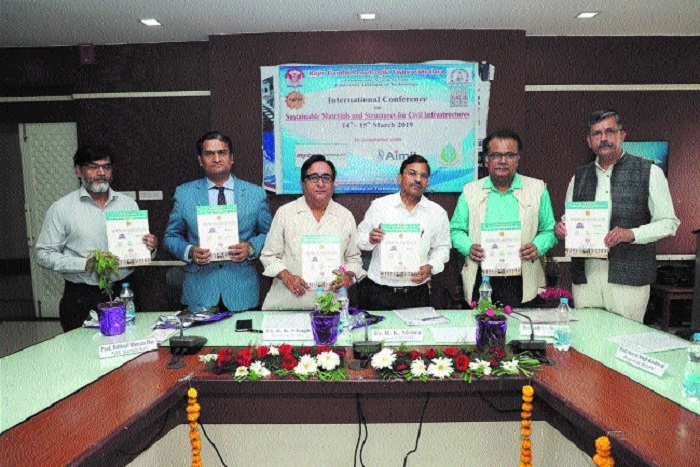 Staff Reporter,
Civil infrastructure conference begins at RGPV
Two-day international conference on sustainable material and structures for civil infrastructures began at Rajiv Gandhi Proudyogiki Vishwavidyalaya (RGPV) on Thursday. On the occasion, several subject experts opined about the topic and shared their valuable thoughts. "Global warming a worldwide problem. Its only solution is continuous development but for sustainable development, it is important that ecology should not be affected. Development at the cost of environment is very dangerous for human being. It seems there is flood in civil infrastructure field. Before finalising any project, it is important to see the requirement as per the local need. In the field of civil infrastructure proper material and equipment can save the environment" said B N Chug, ex-Director General, CPWD Bhopal.
He further said that keeping in view the rising population, apart from civil engineers we need traffic and transport engineer. Loss of environment due to the material being used in civil infrastructure can be controlled with green building concept, rain water storage, geo-discharge concept for green environment and net zero building concept for electricity savings. Besides, innovative and researches should be promoted in this field. Conference Chairman and Professor Sudhir Singh Bhadauriya, Professor and Head Civil Engineering Department UIT, R K Mehra, Engineer in Chief of PWD MP, Professor Vibhuti Bhushan Das, NIT Surathkal and other officials were present. The two-day conference is being organised in association with Indian Green Building Council MP Chapter and India Concrete Institute MP Chapter. The conference will be hosting by Civil Engineering Department, RGPV. The conference will include keynotes, plenary sessions and poster presentation.
Durable and sustainable, materials and structures for civil infrastructures, are essential for the development of worldwide economy and society. Service-life and life-cycle costing including repair and maintenance expenditure for infrastructure project can be optimised with durable materials and construction methodologies. Use of sustainable material shall help in energy conservation and making infrastructure projects more eco-friendly. The aim of this international conference is to provide a forum for civil engineering professional community to share advances in research and development in the field of concrete, other alternative construction materials, composites, technologies, innovations and case studies for making construction activities more eco-friendly and economically viable.
The scientists, academicians, government officials, structural designers and practicing engineers from around the globe will interact and exchange ideas and establish relationships from all areas of theoretical, experimental and practical aspects for setting direction of future growth Topics to be covered in this conference are advanced computational techniques for structures, advanced composite material, advanced material and construction techniques, analytical techniques for material characterisation, cement chemistry, composite structures, concrete technology, durability and deterioration of material and structures, functionally graded materials and structures, Green buildings and innovative structures, innovations in conservation of historical structures, life cycle costing of civil Infrastructures, materials and techniques for repair, rehabilitation, and retrofitting of structures, precast/pre-stressed concrete structures, seismic design and construction of structures, service life of structures, smart and next generation materials and structures, special concrete and innovative applications, structural health assessment and rehabilitation, sustainability of construction, design, and maintenance, waste materials utilisation in civil infrastructures, other topics related to sustainable materials and structures for civil infrastructures.