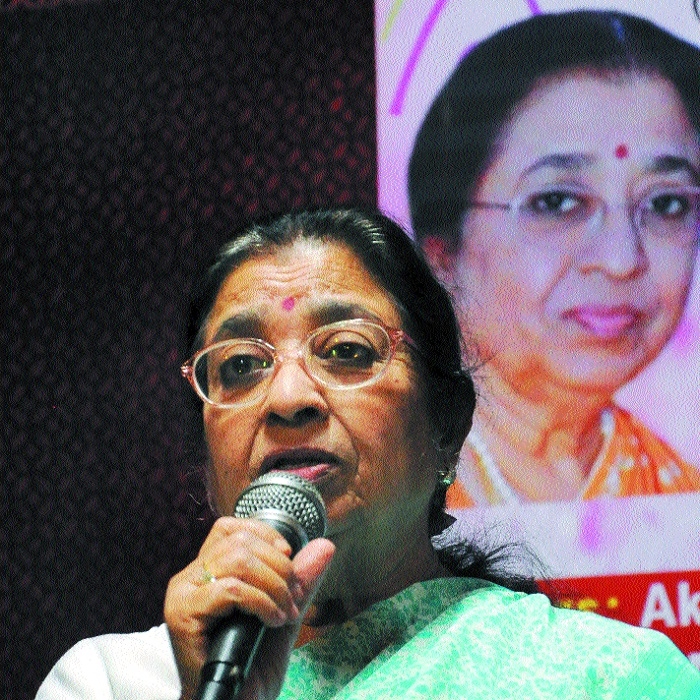 By Kartik Lokhande,
Living the legacy of the family, Usha Mangeshkar to perform in 'Triveni' today at Kavivarya Suresh Bhat Auditorium
What makes an artist great? Humility. Where does it come from? Art. What does one call a family of artists that possesses this quality? Mangeshkar! When one utters the word 'Mangeshkar', it brings to one's mind images of legends like Pt Dinanath Mangeshkar, his daughter 'Bharat Ratna' Lata Mangeshkar, her sisters 'Melody Queen' Asha Bhosle, Usha Mangeshkar, Meena Khadikar, and their brother Pt Hridaynath Mangeshkar, and their younger generation. From an interaction with Usha Mangeshkar, one realises that the family has earned an unparalleled height in the Indian music world on the basis of their devotion to Art and humility, which is inherent quality of each member.
Usha Mangeshkar revealed finer aspects of her personality during an interaction with the journalists at Vishnuji Ki Rasoi on Thursday evening. She is in the city for the live talk and concert 'Triveni' organised by Sakhe Sobati Foundation and Harmony Events at 7 pm on Friday at Suresh Bhat Auditorium, Reshimbag. Ask 83-years-young 'Ushatai' about her bonding with her elder sisters Lata and Asha, and she replies with a radiant smile, "As far as we three are concerned, each one of us has a different quality. But, Lata-didi has been blessed with a 'Divya' (divine) voice. For generations to come, there will not be another Lata, this I can say for sure." She is also all praise for Asha Bhosle for her style and ebullience. When one asks Ushatai about the favourite song sung by her ownself, she responds by adding humbleness to a hearty laughter, "I don't like any of the songs sung by me... For, whenever I listen to them again, I realise that there was mistake here or there." This explains why Ushatai also is a great artist. Coming to Art, Ushatai is also a very fine painter. Her brush-strokes on canvas carry the same lilt as the melodious variations in her voice.
So, one is prompted to ask if painting and music are intricately linked. She agrees, "Certainly! Both arouse a deeper consciousness in an artist." Shedding light on how she took to canvas, Ushatai recalls, her mother used to paint very well. "As a child, I was very close to my mother. So, I copied her. As I grew up, I did not realise when painting blossomed into a passion for me," she adds. She shared an anecdote too. When she went to learn from legendary painter Raghuveer Mulgaonkar, he asked her to show her work. Incidentally, she showed him a copy of his painting. "He was so impressed that I could copy his painting to a fine level, he asked me to work with him. I worked with him for a few days. Later, I learned from M R Achrekar," Ushatai recalls. She is an excellent painter of portraits. A question about her best painting makes her happy and she replies with a smile, stating that legendary actor Sivaji Ganesan's portrait in water colour is her best work. Sivaji Ganesan, whom Mangeshkar sisters treat as brother, kept the portrait gifted to him on his birthday in his drawing room. He also wrote an article in Tamil on the portrait, showering praise on Usha Mangeshkar. "He proudly told a German delegation that the portrait was painted by his sister.
It made me happy from the bottom of my heart," she says. The life of Usha Mangeshkar has been a great one. But, like any great artist, she also had her share of highs and lows. The highest point in her life, she says, was when 'Bharat Ratna' was announced to Lata-didi. And, the lowest point was when she lost her mother. After around 65 years into singing in multiple languages and having worked with legendary music composers like Madan Mohan, Naushad, Salil Chowdhury, and Pt Hridaynath Mangeshkar, Ushatai has a lament about the situation today. "These days are not good for music. There are no good lyrics, no good tunes, no scenes in films that fit the mood of the songs. Even the songs are recorded in bits and pieces and then mixed. So, there is no lasting emotional impact on the listeners," she rues. But, she finds hope in the younger generation that is once again learning the Classical music and dance. Ushatai minces no words in expressing her displeasure over the culture of remixes of old melodies. "It should not be done. Because, in remixes the original content, intent, and context of a song, rendition, lyrics, and tune are lost.
The original emotion gets distorted and twisted in a remix," she elaborates. Given the current Indian scenario in which the artists cannot stay aloof from the political discourse, a journalist obviously asks a related question. Calmly, Ushatai says that the present-day Government has done good works and is a stable one. She adds, "As far as artists expressing their views on politics is concerned, they should do it. After all, they also are citizens and are equally entitled to appreciate or criticise a Government." Rajesh Samarth, Vijay Jathe, Prafull Manohar, and Ravi Andhare also were present at the press interaction.
Usha Mangeshkar live in concert today
Sakhe Sobati Foundation and Harmony Events have jointly organised 'Triveni -- Usha Mangeshkar live in concert and talk' programme at 7 pm on Friday at Kavivarya Suresh Bhat Sabhagruha, Reshimbag. Sagar Madhumatke, Jyotiraman Iyer, Akanksha Nagarkar, Mukul Pande, Gauri Shinde Gaikwad, Pallavi Damle, Palak Arya, and Manisha Nischal will sing songs along with Usha Mangeshkar. In the programme, Usha Mangeshkar will present songs sung by her and her legendary sisters 'Bharat Ratna' Lata Mangeshkar and Asha Bhosle and also share some anecdotes. Nanda Jichkar, Mayor, will felicitate Usha Mangeshkar in the programme. Girish Gandhi will be the chief guest on this occasion. Rajesh Samarth has conceptualised the programme. Shweta Shelgaonkar will compere the event.