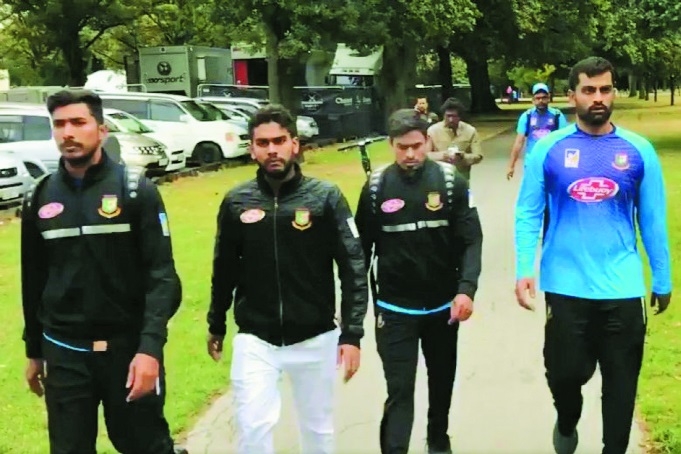 CHRISTCHURCH,
(PTI)
Bangladesh cricketers escape shooting attack in NZ mosque
THE Bangladesh cricket team escaped unhurt despite being in close vicinity of a shooting attack on a mosque here but its ongoing tour of New Zealand was called off owing to the "unprecedented act of violence" in which 49 people were killed. The attack took place on two mosques in the city and also injured more than 20 people, according to the police.
The Bangladesh team, which was about to enter the the Masjid Al Noor mosque in Hagley Park to offer prayers, escaped unscathed but the situation led to the authorities calling off the third and final Test match starting Saturday. The match was the tour finale for the visitors.
"We are very thankful that we weren't caught in the crossfire, but what we saw was straight out of a movie scene. We could see bloodstained people staggering out of the mosque," Bangladesh team manager Khaled Mashud told reporters here.
"Maybe for about eight-ten minutes, we were all inside the bus and were sitting with our heads bowed, just in case someone fires at us," he added.
The team's Indian Performance analyst Shrinivas Chandrasekeran, a Mumbai-based computer-engineer-turned-cricket-analyst, was there in the bus at the time of the incident. The side's spin consultant Sunil Joshi, also an Indian, was however at the team hotel.
"We couldn't react initially. In such a horror situation, your brain automatically freezes as you are terrified. That's exactly what happened to all of us," Chandrasekaran, who has been with the team for the past one year, told PTI.
On being contacted, Joshi said, "I am safe, I will be back in India on Wednesday next week. I cannot talk on the incident right now." New Zealand Prime Minister Jacinda Ardern said the incident marked "one of New Zealand's darkest days"
"It is clear that this can now only be described as a terrorist attack," Ardern said.
Bangladesh's senior opener Tamim Iqbal said it was a frightening experience for the team. "...Please keep us in your prayers," he tweeted. Ardern issued a strong statement condemning the attack.
"This is significant and I can tell you now this is and will be one of New Zealand's darkest days. I would describe it as an unprecedented act of violence, an act that has absolutely no place in New Zealand. This is not who we are," she said.
"Certainly it has occurred at a place where people should have been expressing their religious freedom, where they should have been in a safe environment, and they have not been today. There is no place in New Zealand for such extreme acts of unprecedented violence.
"The people who were the subject of this attack today, New Zealand is their home, they should be safe here. The person who has perpetuated this violent act against them, they have no place in New Zealand society," she added.
The players were initially barred from leaving the bus but, after several minutes, disembarked and made their way through to the Hagley Park ground. They later went back to the hotel. The bus carried 17 members of the team with Liton Das, Nayeem Hasam and spin bowling consultant Joshi staying back at the hotel.
Mashud said the players are bound to be affected after escaping death by a whisker.
"It is natural to be affected. When you see something like a terror attack in front of you, and you see blood spilled in front of you, this will affect any human being. It wouldn't have occurred to us then that we would be safe later. Some of the boys inside the bus were crying as well, because they were all worried about how to get out of there." The International Cricket Council (ICC) said it "fully supports" the cancellation of the third Test.
"Our thoughts and sincere condolences go out to the families and friends of those affected by this horrendous incident in Christchurch. Both teams, staff and match officials are safe and the ICC fully supports the decision to cancel the Test match," ICC Chief Executive David Richardson said.
Cricket fraternity expresses shock, disgust
CHRISTCHURCH,
(PTI)
THE terror attack on two New Zealand mosques, that led to the death of 49 people and from which the Bangladesh cricket team had a narrow escape, drew condemnation from the cricket fraternity with India captain Virat Kohli calling it "shocking and tragic". The shooting attacks took place on two Christchurch mosques with one gunman — identified as an Australian extremist — apparently livestreaming the assault that triggered the lockdown of the city.
"Shocking and tragic. My heart goes out to the ones affected by this cowardly act at Christchurch. Thoughts with the Bangladesh team as well, stay safe," Kohli tweeted.
New Zealand cricketer Jimmy Neesham said the incident has left him stunned.
"For so long I've watched world events from afar and naively thought we were somehow different in our little corner of the world, somehow safe. Today is a terrible day. Disgusted and saddened doesn't begin to describe it," he tweeted.
Senior India off-spinner Ravichandran Ashwin also took to the social media platform to express his disgust, saying "no place in this planet is safe for humanity". "...Because human beings are the biggest threat to this planet," Ashwin wrote.
India batsman Rohit Sharma expressed his solidarity with the victims. "Heartbreaking news coming out from New Zealand. What's happened to humanity?" he tweeted.
Veteran off-spinner Harbhajan Singh added: "Shattered with this terrible news..Another terror attack. Where are we all heading. These cowards have no religion. Thoughts and prayers are with all the victims."
Former Australia captain Michael Clarke and ex-Sri Lanka coach Dav Whatmore also expressed their support to the victims. "Horrific news out of Christchurch! Absolutely devastating. Thoughts and prayers go out to all affected at this extremely sad time," Clarke tweeted.
Whatmore added: "Very sad news coming out of Christchurch, New Zealand. Condolences to all families whom have lost a loved one. My thoughts and prayers are with all those affected."
From Munich to Christchurch: When violence hit sports
NEW DELHI/CHRISTCHURCH,
(PTI)
THE Bangladesh cricket team escaped unhurt and was not even the target but violence has been specifically directed at sportspersons in the past, leading to bloody repercussions. Here is a look at instances when sport, often a tool to propagate the idea of world peace, found itself caught in the crossfire.
1972 Munich Olympics:
The most gruesome incident of targetted violence against sportsperons happened on September 5, 1972. Eleven Israeli athletes and coaches were taken hostage and eventually murdered by terrorists during a 16-hour ordeal, during which the world was witness to chilling images of athletes held captive on gunpoint.
1987 New Zealand tour of Sri Lanka:
It was to be a three-Test tour but New Zealand abandoned it after just the first match when a bomb planted by separatists exploded near the team hotel in Colombo, killing 113 civilians.
2002 New Zealand tour of Pakistan:
New Zealand's cricket team was touring Pakistan in 2002 when a bomb went off outside their hotel, killing 12 people. The players were unscathed but the Black Caps' Board decided to call back the team. A year before this, New Zealand were on their way to Pakistan for a series before heading back midway owing to the September 11 terror attack in the USA. The series was eventually abandoned.
2009 Sri Lanka tour of Pakistan:
The Sri Lankan team was on its way to play what was to be the third day of the second Test against Pakistan at the Gaddafi Stadium in Lahore. The team bus was, however, intercepted by at least a dozen terrorists who fired at the bus, resulting in injuries to six Sri Lankan players and the death of the bus driver. Six policemen died protecting the players while two civillians were also killed. The Lankan team returned home and Pakistan has not hosted an international match since then.
2010 African Nations Cup Football Tournament:
Togo's national football side was travelling through the Angolan province of Cabinda for the African Nations Cup when the team bus came under gun fire from separatists. The side's assistant manager and media officer were killed in the attack.
2019 Bangladesh tour of New Zealand:
A day before the start of what was to be the third and final Test of the tour, Bangladesh's cricket team was on its way for Friday prayers at the Masjid Al Noor mosque in Christchurch, which was to be followed by a practice session. The mosque came under attack from a gunman, identified as an Australian extremist, and led to the killing 49 people. The players remained safe but the tour was called off.