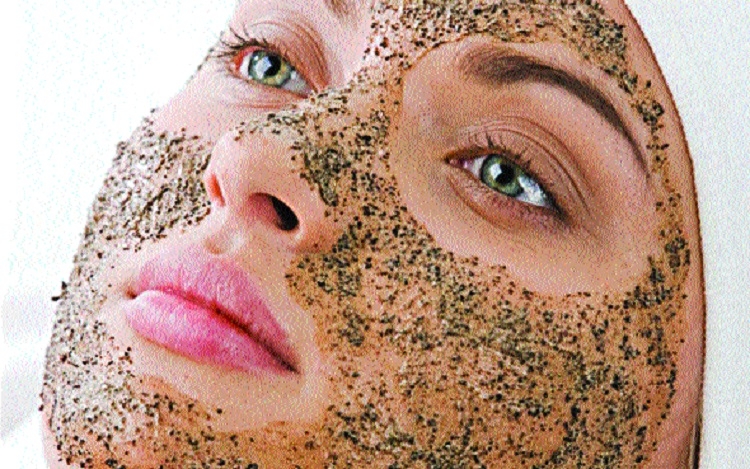 By shahnaz husain Dull,
dry, lusterless skin is result of regular exposure to dirt, dust and pollution in environment which accumulates toxins in deep pores. While washing and cleansing help get rid of superficial build up on face but misses out dead skin cells, blackheads and whiteheads. Face scrubs are must to clear dead cells and remove toxins from deep within pores for radiant, clear and flawless skin. Packed with the goodness of natural ingredients and essential oils, face scrubs can provide your skin with deep exfoliation to give you smooth and clear skin. Scrubs not only improve skin texture, but also stimulate circulation and encourage toxins to escape through the unclogged pores. When skin is clean and exfoliated, it can absorb the beneficial ingredients in treatment and moisturizing products much more effectively. Scrubs play an important role by keeping the pores free of clogged oil, thus preventing blackheads and pimples. Some scrub ingredients, like lemon juice, lemon peels, curd, milk, turmeric, ground almonds, help to brighten the skin and lighten skin colour over a period of time. Natural cooling ingredients can be used to make scrubs, like multani mitti, rose water, sandalwood, fruits, cucumber, aloe vera, while natural antiseptics helps to prevent rashes.
These are neem, tulsi, pudina. Other home ingredients for scrubs are ground almonds, oats, rice flour, wheat bran (choker), cucumber or pumpkin seeds, dried orange and lemon peels and eggs. For dry skin, use a scrub only once a week. If the skin is sensitive, with reddish patches or rash, avoid scrubs. For normal to oily skin, scrubs may be used more often. For oily skin with enlarged pores: Mix oatmeal with egg white and apply on the areas. When it dries, dampen with water and rub gently with circular movements, washing off with water. Both egg white and oatmeal also help to reduce oiliness. Mix 3 parts rice powder with 2 parts gram flour. Add curd and a little turmeric to mix into a paste. Apply on exposed areas of the body. Leave on for 10 minutes. Rub gently on the skin and wash off with water. Ripe papaya has a cleansing action and contains an enzyme called papain, which helps to remove dead skin cells and brighten the skin. Add oats and curd to papaya. Apply on the face and rub gently on the skin, washing off with water.
Take 2 parts coarsely ground almonds and one part yogurt. Add a little turmeric. Mix together and apply on the body. After 5 minutes, rub gently and then wash off with water. Take sesame seeds (til), dried mint (pudina) leaves and honey. Crush the sesame seeds coarsely and powder the dried mint leaves. Mix them with a little honey and apply on the skin. Leave on for 5 minutes. Rub gently and wash off with water. Sesame seeds actually have sun protective properties and also soothe sun-damaged skin. Or, mix ground almonds with yogurt. Apply on the face. Leave on for 15 minutes. Then moisten with water and rub gently. Wash off with plenty of water. Dried and powdered lemon and orange peels, along with dried and powdered mint (pudina) leaves can be added to facial scrubs to help add a glow.
In fact, mint also helps to keep the skin clear and prevent eruptions. Apply the mixture on the face and leave on for a few minutes. Then, rub gently, with small circular movements, washing off with water. For all skin types, make a powder of green tea leaves and mix it with curd and aloe vera gel in equal quantities. Apply on face leave on for a few minutes. Rub gently and wash off with water. Take one cup olive oil and mix with Epsom salts or sugar. Add a little grated lemon rind. Apply on the face and rub gently. Wash off. The remaining scrub may be kept in the fridge in an airtight jar. l