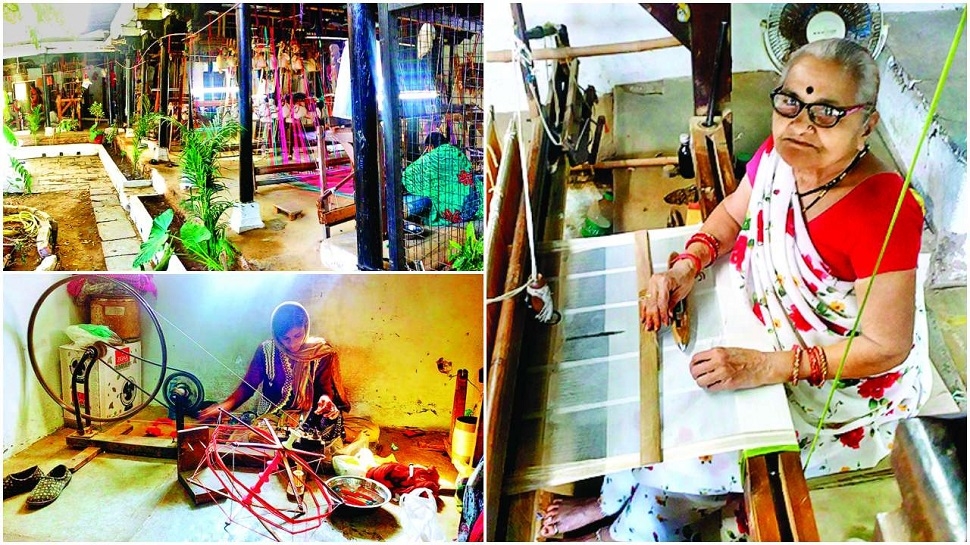 By YOSHITA RAO,
Septua g e narian Chandrabai wakes up each morning at 6:30am, bathes, cleans her house, prepares food for her family, all before walking a mile to the handloom production unit, where she spends the next eight hours weaving Maheshwari shawls and stoles. Her task list includes weaves that are narrower in width (in comparison to other shawls or saris) with easier designs on bright colours. But even with cataract surgeries in both her eyes, she still manages to spot a single weave gone wrong. "Galti ho gayi. Abhi fatak se nikalungi (I made a mistake; I'll just rectify it)," says Chandrabai, pointing to a knot in the thread before ripping off five inches of woven fabric. "Even the slightest errors will not do in our work," she adds. Working for over 40 years, Chandrabai is one of the oldest weavers at Rehwa Society, which began in the 17th century and is now renowned for its Maheshwari saris. The tik-tok sound of many looms echoes through the open courtyard of the one-storey production house situated on the banks of the river, inside the Ahilyabai Holkar Fort in Maheshwar, Madhya Pradesh (MP). It is said that the designs on a typical Maheshwari sari are inspired by the filigree of the Shiva temples in the area. Through the whirring of the looms, Chandrabai reminisces about her year-long training and herfirst day at work, "It was very bad. I had small children at home when I started working here and I was constantly worried about feeding them. Now my son and daughter work here with me."
Her 38-year-old daughter, Sangeeta Jethwa, works on a 'Mala border' (aptly named for its big wave pattern) on the two-pedal loom next to hers. Jethwa, who has worked at Rehwa for nine years, says, "Some of the experienced weavers recognise the design of the sari just as the dobby loom (wooden notches that control the warp threads) is set." Another weaver, Kiran Khevat, 31, has worked at Rehwa for seven years and can weave eight saris in a month. Unlike the older weavers, Khevat had to undergo training for only six months.
"I didn't know anything about weaving till I joined Rehwa. But the salary was enough to sustain my kids," she says. Her three kids attend the Ahilya School, while their family lives in the apartment provided by Rehwa. Apart from providing housing and educational facilities to its weavers and their family members, Rehwa Society also makes provident fund contributions for each employee. With over 75 looms, Rehwa, another name for the river Narmada, employs over hundreds of weavers in their four production houses, majority of whom are women. The men and women have separate working quarters at each production house and work on looms with plaques that pay gratitude to their sponsors like actress Shabana Azmi, Director Muzaffar Ali and even the Holkar family (Maratha rulers of Indore), among others. The traditional designs of the Maheshwari saris - available only in bright contrasting colours of reds, blues, yellows and greens - are mostly left untouched, says the 23-year-old Designer and Marketing Executive Dhanya Kolathur.
"I have to be very careful in retaining what a Maheshwari textile is and work within those bounds." With contemporary designs, Kolathur's design liberties stretch only as far as not having heavy zari work or adding more geometric borders. Since a typical Maheshwari sari would be made from all natural dyes, Rehwa has started its valueaddition programme like tie and dye and natural dyeing processes, where the dyeing is done inhouse.
"We use Azo-free dyes in the treatment plant and the water is let out into the gardens. We're also trying to include more natural dyes like haldi (turmeric), indigo, mador and alkanet," says Kolathur. All Rehwa products are sold with a 'Thank You' note attached that reads, "Thank you for buying this delicate product, hand-woven by the master weavers of Rehwa Society..." The note ends with crediting weavers like Chandrabai. "I don't like sitting at home, I feel lonely and fall ill very easily - my legs and hands start to hurt. But working the loom is good exercise for me. It's a nice pastime," laughs Chandrabai adding, "Jitna ho sake utna karoongi (I will work till the day I can)." Rehwa's production staff confirms that a total of 600 pieces of saris, dupattas, fabrics, shawls and stoles are made in any given month. And they're all made possible because of the skill and dedication of weavers like Chandrabai, Jethwa and Khevat, whose routine set the looms in motion. Loom Life ✬ Estimated time of weaving a six-yard sari is three days. The Rehwa weavers churn out 600 pieces of woven fabric in a month. ✬ Prices of Rehwa's Cotton silk saris start at Rs 1,100 and pure silk start at Rs 1,400. ✬ Every woven fabric from Rehwa has a 'Thank You' note attached that credits the weaver as well and reads, "Thank you for buying this delicate product, hand-woven by the master weavers of Rehwa Society. Your purchase will fund the educational and health programs of The Ahilya School, contributing to the weavers' children in Maheshwar."