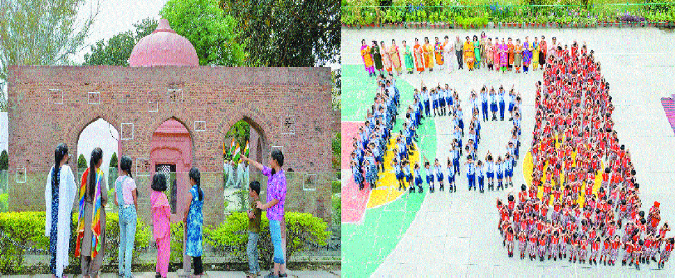 Children and women look at bullet marks on a wall near the Jallianwala Bagh Martyrs'
Memorial ahead of the 100th anniversary of the Jallianwala Bagh massacre in Amritsar, Punjab.
The massacre, also known as the Amritsar massacre, took place on April 13, 1919 when troops of the British Indian Army under the command of Colonel Reginald Dyer had opened fire on a crowd of Indians, who had gathered for a public meeting. (Right) Students and teachers stand in the shape of the number '100' and the Jallianwala Bagh Martyrs' Memorial, as they pay tribute to the martyrs at Shri Ram Ashram Public School in Amritsar on Friday. According to British official records, at least 379 men, women and children were killed.
The Indian National Congress had quoted 1,000 deaths. DEMANDING apology from Britain over the Jallianwala Bagh massacre, which completes 100th year on Saturday, descendants of some of those killed have said mere regret would not do. The massacre took place in Jallianwala Bagh in Amritsar over Baisakhi in April 1919 when troops of the British Indian Army under the command of General Reginald Dyer fired indiscriminately at a crowd holding a pro-independence demonstration, leaving hundreds of people dead. British Prime Minister Theresa May on Wednesday described the massacre as a 'shameful scar' on British Indian history but she stopped short of a formal apology, reiterating the 'regret' already expressed by the British Government. "My mama-ji (maternal uncle) Mela Ram was martyred at the age of 18 in the massacre," said 86-year-old Krishana Chohan, recounting how she grew up hearing tales about the incident.
"When the troops started indiscriminate firing on the peaceful gathering, everybody panicked, people started running helter-skelter without having any understating where to go. It was plain ground and there was only one exit, which was a narrow lane. As a result, there was a stampede and many fell upon each other and some fell inside the well in the ground," she told PTI. She said her uncle was one of those who fell inside the well. "His body bore bullet marks, I was told. Some freedom fighters who were addressing the gathering were also found dead," she said. Chohan said the British Government should apologise for the incident and a mere regret would not do.