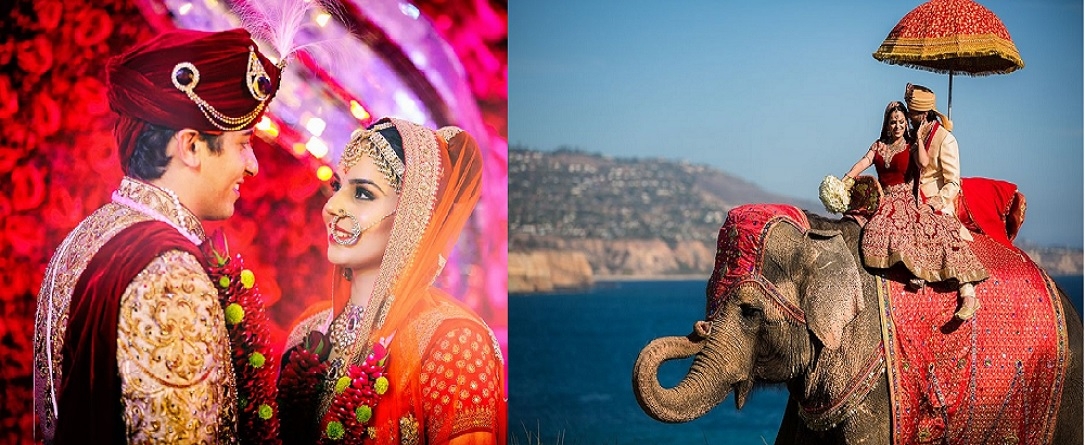 By POOJA SALVI:
"Intricately designed stages in large, palatial gardens, rituals by a breezy seashore, hosting hundreds, even thousands of guests in international locations is Big Fat Indian Wedding. "
I ntricately designed stages in large, palatial gardens, rituals by a breezy seashore, hosting hundreds, even thousands, of guests in international locations is the Big Fat Indian Wedding. PoojaSalvi digs a little deeper into the planning of such weddings, and if it holds any aspirational value for the middle class Pammi Auntie* loves attending weddings. In the run-up to the wedding season, as invites begin to flood in, she meticulously plans her schedule. November for *Shah's daughter, December for *Suleiman's son, *Ahuja's sister's son, *Mehta's daughters, *Saxenas and *Khannas tying the extended knot. And this isn't even her entire calendar. Like a social butterfly, she flutters breezily through the mehendi, sangeet, haldi and pherasrevelling in the grandeur of the Big Fat Indian Wedding. Banter, chatter and gossip at these functions fuel Pammi Auntie's fascination. At one such wedding, as Pammi Auntie sits surrounded by her kitty group immersed in chatter, the conversation quickly moves to extravaganza in weddings with each one stacking it up. As the kitty huddles to discuss who emerges as the undeclared winner of the wedding season, we did a little eavesdropping for your benefit…
PICTURE PERFECT
From the monumental wedding stages and reception decor to the caterers offering every cuisine under the sun and the trousseau of the bride and groom, Indian weddings are never too conscious about putting up a show. This went a step further within the last decade when wedding photography got revolutionalised to beyond just reception images. Couples got wedding photographers on board for a more creative, more candid documentation of the big day.
In no time, pre-wedding shoots became a hit. Themes, locations and weather (even from all across the world) were scouted for the perfect picture. Mumbai-based Kevin and Jeshi Jain planned a destination pre-wedding shoot six months before the wedding day, flying from Mumbai to London and booking a photographer from Ukraine.The package, says Jain, was easier on his pocket compared to what he'd have to shell had he flown a troupe from Mumbai - Rs 75,000 was the photographer's fee and Rs 25,000 his conveyance and accommodation. "Had I taken someone from Mumbai, who would have come with a bigger team, it would have cost me Rs 2,00,000," he tells JBM. Nearly eight months before the wedding, Kevin threw a "surprise" proposal party - the couple had been in a relationship for over six years, but a grand gesture was always on the charts - booking the deck of a posh seaside restaurant in Mumbai. Citybased photographer Darshan Talajia was present with his team of five photographers. "A proposal party, even when the couple has been together for a while, is one of the many trends couples are inclined to do before their wedding," he says. Other trends, which Talajia and company have worked on, include bridesmaids and bachelorette party shoots. These are riddled with sexual innuendo, from props and paraphernalia to the decor. "Dildo, penis cakes, decor and props all sexual in nature are used here. Earlier, these were hush-hush. But today the set-up is elaborate, in most cases, done by the bride's friends (since planners can never get that personal). And they want a photographer filming the whole thing," he says. After the evening, Talajia is required to send the photographs to only the bride and then delete them, "lest they're somehow leaked and the bride falls in trouble."
JUST LIKE A MOVIE :
Magnificent wedding sets designed to look like they're right out of a movie are worked on by Krishna Pandey of Studio QC Square. He clarifies they only work on "really large productions". While he says Mumbai and Delhi have similar ideas, such as being more keen on palatial (destination) weddings, he adds that the South likes to have grand-scale set productions themselves. "In fact, a couple was such big fans of Baahubali that they recreated the entire set of the movie for their wedding!" However, one thing Pandey has no qualms about, "What was earlier done by the handful rich guys is now the norm for the upper-middle class." A couple from Kolkata, who chose to be anonymous, tied the knot while doing the balancing act on two platforms that slowly merged together with the help of a rail track forming a heart. Fireworks burst, dancers twirled to Ghoomar and the thousands of their guests cheered on.
PLANNING THROUGH THE MONTHS: Bengaluru-based Chirmi Events has helped organise weddings in the metro and Kerala, but BhumikaNahata from Chirmi says that in her experience, the South is more worried about "is this too much?" compared to the North's "is this much enough?" Regardless of when the wedding planning starts, client requirements are pretty much the same - "I would say families and couples here are very clear about what they want and don't wish to budge. But our destination weddings organised in Thailand give us more space to work around," she says. Wary of giving away too many (monetary) details, she says they charge 15 per cent on the billing for their planner services. On the other hand, for his destination wedding in Jodhpur, Kevin had to shell out somewhere between Rs 5 to Rs 6 lakhs, which included the planners helping with everything from the services - including even driving the guests from the airport/station to the venue and vice-versa - theme and decoration to the sequence of events before the wedding. One such event the planners organised for the Jains was a carnival (mela) with Kalbeliya dancers brought in from Jodhpur, and even a magic show including other activities. As weddings get closer to looking like Bollywood sets, Pammi Auntie* and the kitty can't help but be mesmerised and wonder... what really makes a wedding grand? For some, it lies in elaborate sets in gardens, for others, it is the warmth of the spouse and the blessings of the families.
HOW MUCH DOES A GRAND WEDDING COST? : Nikhil Bhide of Wedding Planner India elaborates on the expenses behind a large-scale production wedding. "The main expense in a wedding is food, everything else is set price, but food and guests is variable. Consider a destination wedding hosting 500 guests with each plate charged at Rs 2,500 plus taxes, could even cross Rs 30 lakhs." A recent wedding he organised in Goa with 300 guests had food bill alone run up to Rs 18 lakhs. Logistical planning, which includes managing the flight booking for guests and other services come at Rs 2 to Rs 3 lakhs. "For this wedding, we started planning a year in advance. We took care of flights, vehicles and everything, which roughly came up to Rs 3 lakhs." Music and/or a "decent" DJ would cost anything between Rs 30,000 to Rs 50,000. But an interesting twist comes with music licenses. "Copyright licenses are necessary everywhere, it is another story that no one follows it in Mumbai. But, if you want to play Bollywood songs in public, you have to clear out your license situation," he says. Novex Communications takes care of Yash Raj music, The Indian Performing Right Society Limited handles Tips Music, and T-series.This, his company doesn't take care of. "Sometimes, the client gets it or if the hotel is kind enough to get on their behalf, they do so. On an average, these licenses cost Rs 35,000 per day. So in a 6-day wedding, the client is spending anywhere between Rs 2.5 lakhs to Rs 3 lakhs." So, if you are keen on a grand, lavish wedding,"will cost easily Rs 40,00,000 to Rs 50,00,000." "Had I taken someone from Mumbai, who would have come with a bigger team, it [the prewedding shoot] would have cost me Rs2,00,000"-Kevin Jain, Mumbai-based businessman.
BREAK-UP OF A BIGGER, FATTER INDIAN WEDDING
● 18LFood, as it turns out, is the variable amount in weddings depending on the number of guests ●3LIf you are keen on Bollywood music at the wedding, you have to sort copyright licenses that aren't kind on pocket ● 3LLogistical planning including services offered by planners such as graphic designing and shuttle for your guests *asterisks are fictional characters. (dnasyndication.com)