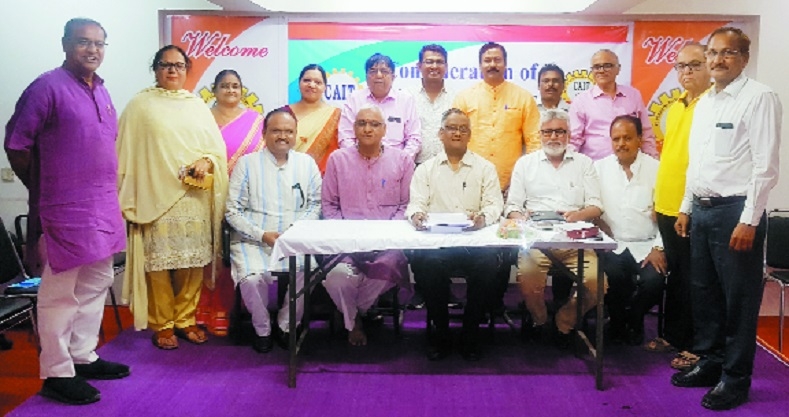 Business Bureau,
IN order to ensure that citizens of our country exercise their right of franchise in the forthcoming elections, Confederation of All India Traders (CAIT) has launched a country-wide awareness campaign to vote in forth coming elections. In Nagpur, this campaign will start from April 6 and will continue till April 9. In a meeting of Team CAIT Nagpur, chaired by Chairman Gopal Agarwal and presided over by President Kishore Dharashivkar, it was decided that in Nagpur, the campaign will start from morning of April 6.
A team of CAIT members will go to hot places of morning walkers, alongwith slogan, banners and request the morning walkers to spread the message of voting amongst their people. During day time campain will be carried on in market places. In the evening, they will go to Phutala tank area and in those streets where there are evening walkers. In this way maximum area will be targeted, so that the percentage of voting will increase. Gopal Agarwal said, "Special efforts will be taken to include e-rickshaws with banners and posters to spread massage of exercising voting rights to masses." He also appealed public to join the campaign. President Kishore Dharashivkar said, "All the market areas will be targeted through their respective associations to spread awareness amongst the traders, their employees and the customers visiting their shops."
Chhaya Sharma and Jayshee Gupta said, "Ladies will participate in very big way and try to visit as many are as possible." Convenor of Youth Wing, Sapna Talreja said, a team of youth volunteers will be formed who will try to reach the youths especially those who will be getting first time voting rights, informs a press release issued here. National President B C Bhartia said, "This is purely a non political movement. It is encouraged by Election Commission's idea of highest percentage of voting.
CAIT is not recommending voting to any particular person or any particular political party but the whole moto is that voters should take their independent decisions." Prabhakar Deshmukh, Rajkumar Gupta, Gyaneshwar Rakshak, Ravindra Gupta, Nikhilesh Thakar, S Bhutoliya, Banty Telmasare, Vinod Gupta, Satish Bang, Madhu Trivedi, Jyoti Awasthi, Sanjeevani Choudhary, Rajni Agnihotri, Meena Basek, Anita Totewar and other members in large numbers were present at the meeting.