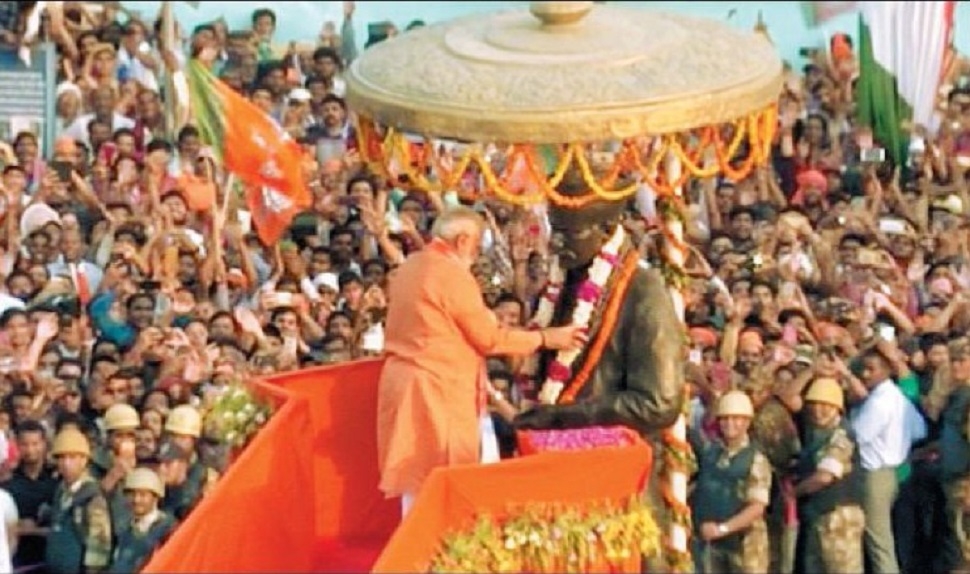 VARANASI:
People turn up braving a humid, hot weather during 6-km roadshow in Varanasi
The entire top brass of the BJP, including party chief Amit Shah, several Union Ministers and Chief Ministers, accompanied Modi in the cavalcade
COUNTLESS lakhs of men, women and children poured out into the streets in the temple town of Varanasi as Prime Minister Narendra Modi undertook on Thursday one of the biggest roadshows ever a day ahead of his filing of nomination on Friday for the Lok Sabha polls due soon. He was accompanied by Uttar Pradesh Chief Minister Yogi Adityanath during the roadshow that wound its way through six kilometers slowly, stopping every now and then to let Modi have a better connect with the masses. Humid weather, scorching heat, and an unprecedented jostle of the crowds did not budge the people who kept cheering and shouting slogans that seemed to announce in advance Modi's electoral triumph. The Bharatiya Janata Party's election managers in Varansai and Uttar Pradesh succeeded in demonstrating to the voters in which direction the winds blew.
Donning a saffron kurta and scarf, the Prime Minister was seen waving to the enthusiastic crowd which wanted to catch a glimpse of their star candidate. He began the roadshow from the iconic Banaras Hindu University (BHU) where he paid homage at a statue of Pandit Madan Mohan Malviya, a freedom fighter and founder of BHU. The Prime Minister's roadshow is passed through a number of temples and ghats before culminating at the Dashashwamedh ghat on the banks of holy Ganga. The roadshow ended at the Dashashwamedh Ghat where Modi took part in the Ganga aarti along with BJP President Amit Shah. The entire top brass of the BJP, including party President Amit Shah, several Union Ministers and Chief Ministers, accompanied Modi as the cavalcade meandered its way through the lanes of the ancient city. The roadshow passed through Lanka, Assi, Bhadaini, Sonarpura, Madanpura, Godowliya and end at Dashashwamedh Ghat.
After Ganga Arti at Dashashwamedh Ghat, Modi will address a gathering of 3,000 people in programme 'Sammelan'. After that, he interacted with select intellectuals at Hotel De Paris. Uttar Pradesh Chief Minister Yogi Adityanath, Union Minister JP Nadda, UP and Delhi BJP chiefs, Mahendra Nath Pandey and Manoj Tiwari, are among the senior leaders who are accompanying the Prime Minister at the event. Before embarking on the roadshow, PM Modi said that his scheduled programmes in "beloved Kashi" would give him an opportunity to interact with his "sisters and brothers" of the town. "After bumper rallies in Darbhanga and Banda, I am heading to beloved Kashi. There are a series of programmes lined up, which would give me another excellent opportunity to interact with my sisters and brothers of Kashi. Har Har Mahadev!" Modi tweeted. People have been thronging the temple town long before the event started to welcome the Prime Minister.
A Modi supporter at the rally said, "We are very eager to welcome Modi ji. He will get a grand welcome here. India has never got such a Prime Minister before, nor will it get a PM like Modi in future. For a bright future of the country, it is important that he comes back to power once again." BJP's pitch to make national security a top poll agenda appeared to have several takers at the rally, with many endorsing the party's views on the matter. "Before 2014 we had a prime minister who only 'condemned' (the terrorist activities), now we have a Prime Minister who bombs Pakistan," said another supporter. Some women standing alongside the road reiterated similar sentiments. On the day of nomination, apart from BJP leaders, prominent leaders of other parties who are part of NDA will also be present. Prominent leaders of BJP allies who will be present include Bihar Chief Minister and JD-U chief Nitish Kumar, Shiromani Akali Dal leader and former Punjab CM Parkash Singh Badal, Lok Janshakti Party leader Ram Vilas Paswan and Shiv Sena chief Uddhav Thackeray.
Varanasi goes to polls on May 19, the last phase of seven-phase general election. Notification for the last phase was issued on April 22 and the last date of filing nomination is April 29.
Last 5 yrs were about sincere efforts, next 5 will be about results: Modi
VARANASI:
A DAY before filing his nomination papers, Prime Minister Narendra Modi on Thursday said while the past five years were about his Government making sincere efforts, the next five will be about results. Addressing a meeting here that capped a day which included a massive roadshow and a Ganga 'aarti', Modi also laid stress on national security. He said a new India gives a befitting reply to terror. In an apparent reference to the attack on a Central Reserve Police Force, the Prime Minister said, "They killed 40 jawans in Pulwama, we have killed 42 terrorists in that area." He said this is the way his Government functions. Modi added that the world backed India in its fight against terror. He also referred to the recent bomb blasts in Sri Lanka, saying innocent people observing Easter had lost their lives. The PM will file his nomination papers on Friday, seeking a second term in the Lok Sabha from the constituency. Modi said he will not claim that whatever he wished for the constituency had come true during the last five years. But the pace and the direction of its development are right, he said and outlined the work done by his Government in the constituency. He said while he is giving details about his Government's work during the last five years, there are some who are not ready to give an account for the "70 years" they were in power. He said while the last five years of his Government were about making sincere effort, the next five years will be about results.