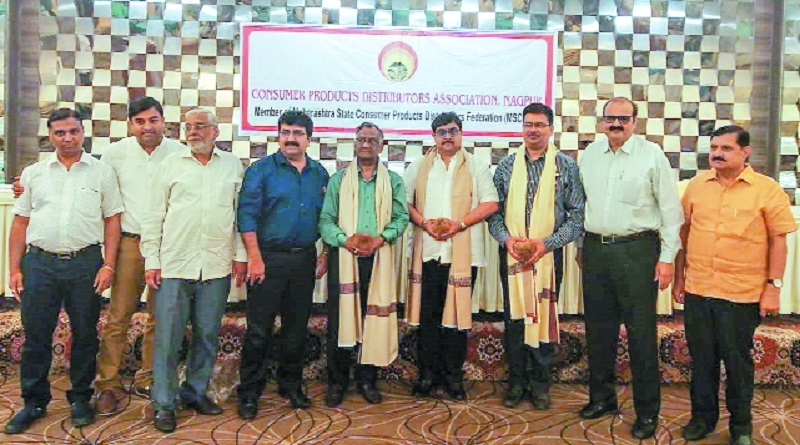 Business Bureau:
The new body of Consumer Products Distributors Association (CPDA), Nagpur for the year 2019-21 was installed on Sunday at Hotel Centre Point, Ramdaspeth, Nagpur. Sunil Bhatia of Rajesh Sales Agency, has taken over as President in presence of B C Bhartia, National President of Confederation of All India Traders (CAIT) and Dhairyashil Patil, President of AICPDA. On the occasion, Sunil Bhatia said that the members of the association help the economy of Nagpur by providing jobs to more than 10,000 people. "They also pay huge amount of taxes to Government by the way of GST, IT, Property Tax, etc.
These members who deal in fast moving consumer goods (FMCG), give service to more than 10,000 shopkeepers including kirana, daily needs, supermarkets, medical stores, restaurants etc., in and around Nagpur. With more than 150 members on board, the association is planning to add more members in coming days," he said. Expressing his views, B C Bhartia, spoke about how CAIT is working on all fronts for the betterment of businesses on state and national level. Recently Prime Minister Narendra Modi had addressed all business people in New Delhi wherein he applauded the good work done by CAIT. Dhairyashil Patil, All India President and State President of distributors fraternity, congratulated the new body and eleborated on how they have brought the issues faced by distributors to Government's notice and got required improvements in the policies.
He emphasized on the unity of distributors and requested all to be united every time. He also informed the members that they are in touch with the Government authorities, informing them about the problems faced by the members. Prafful Jain, Secretary, MSCPDF, also appealed to all the distributor fraternity to maintain unity amongst them. The installation meeting was attended by many office-bearers of MSCPDF and more than 100 members of CPDA, Nagpur, Vice President Chandresh Palan, Organising Secretary Subhash Bhai Jobanputra and others. The other members of the body of CPDA, Nagpur installed include Sandeep Agrawal- Secretary; Samit Jain- Vice President; Ashok Biyani -Treasurer; Ashish Jaiswal and Ajay Kantode; joint secretaries; Puneet Kusumgar – IPP; Anand Bhutada, Amandeep Kapoor, Ankit Kothari, Vikrant Bhargava, Moti Motwani, Yash Nayyar and Bhawesh Thapar are the new executive body members. Sandeep Agrawal proposed the vote of thanks.