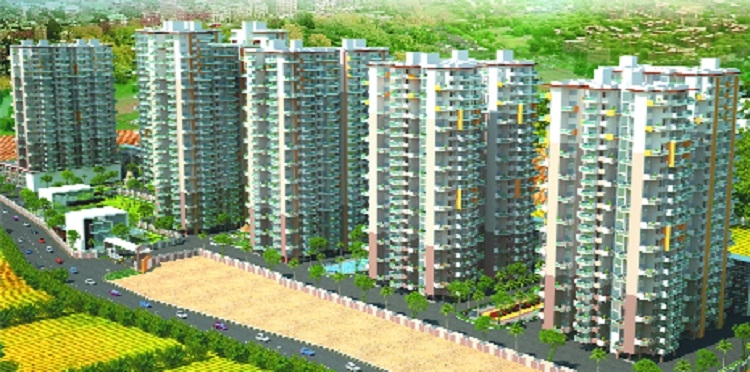 Business Bureau:
ABHIJIT Realtors, Central India's one of the iconic real estate brand, has a new upcoming mega township Jayanti Nagari 7 situated on Besa Road. The project is now witnessing rapid construction activity. Being spread on 15 acres with 8 high rise towers upto 26 floors, this township has become a 'go-to' destination for every perspective home buyers. As Abhijit is know from extra-ordinary quality work. To facilitate easy home buying during this Navaratri festival, Abhijit Realtors is giving the entire GST benefit to its customers. Under this offer, customers can get benefit upto Rs 5.40 lakh on GST. Additionally, PMAY benefit of upto Rs lakh is also available for eligible customers.
It is worth mentioning that the benefit of Rs 5.40 lakh is available to flat size upto 90 square meter or flat cost upto Rs 45 lakh only. Abhijit Realtors and Infraventures Pvt Ltd (ARIPL) has worked rigorously to provide luxury living at an affordable price. A total 1,310 units in 2 and 3 BHK comes in 6 different configurations. The township has been architecturally designed for maximum open space. ARIPL is proud to announce that the township has 80 per cent of open space to facilitate fresh air and natural light. The township is going to be equipped with 'never seen before' amenities. Discover a resort themed club house at Jayanti Nagari 7.
Experience a host of recreational amenities in club house, atmospheric cafes and a welcoming party hall. At Jayanti Nagari 7, a home control system connects all the electronics in house.
It means that not only phone and tablet connected to the internet, but thermostat and lights too. Connectivity is the most important feature of home automation and ARIPL has tried to fulfill every aspect of it. 'Gazebo' is yet another amenity that has been very thoughtfully conceived in the natural and green surroundings of Jayanti Nagari 7. To start ones day on a healthy note, variety of open air gym equipments installed in fresh and healthy environment are going to welcome at Jayanti Nagari 7 every day. Maze is going to be another 'never seen before' amenity at Jayanti Nagari 7, conceptualized with an idea of adding more fun to the luxurious living offered. A lavish club house, 3 world-class swimming pools, tennis court, rock garden, mini golf course, netted cricket pitch, open air theatre and around 34 world-class amenities will add to an uber living experience to the proud owners of Jayanti Nagari 7. A 3 storied grand party house at Jayanti Nagari 7 will be the most sought after place for all celebrations like birthdays, anniversaries and kitty parties etc. A sprawling 50,000 square feet lawn with beautiful landscapes is going to be hallmark.