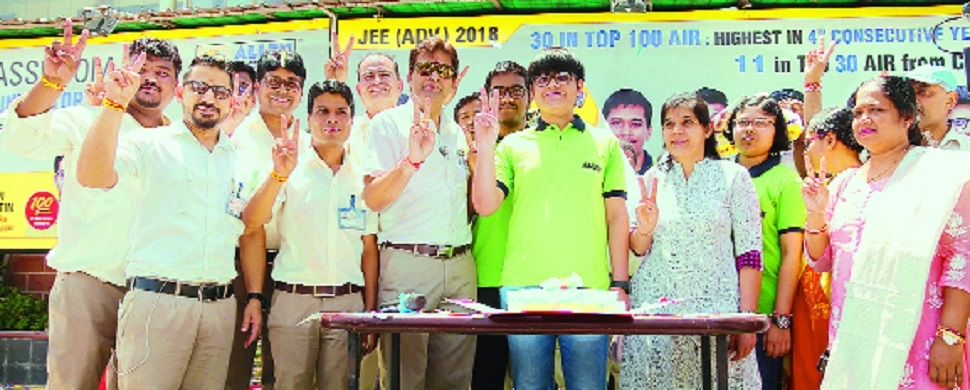 Business Bureau:
The All India Ranks of JEE-Main-2019, the most prominent engineering entrance examination of the country which was conducted by the National Testing Agency (NTA) twice this year on CBT pattern has been released for the first time. Students of the Allen Career Institute once again proved to be supreme in the results of this examination.
Director of the institute - Brajesh Maheshwari said that 7 classroom students of the Allen Career Institute have made a place in the top 20. In this, Kevin Martin has secured AIR 2, Jayesh Singla has secured AIR 4, Nishant Abhangi got AIR 6, Sambit Behera secured Rank 11, Ankit Mishra secured AIR 13, Kartikey Chandresh Gupta got Rank 18 and Samiksha Das secured AIR 20. All these students have received 100 NTA scores.
Along with this, informs a press release issued here, Allen's DLP student Gudipati Aniket has secured 100 NTA scores. Maheshwari said that Allen Career Institute has given 12 State toppers in these results. Among them, NishantAbhangi has topped Rajasthan. While Kevin Martin topped Karnataka, JayeshSingla topped Punjab, Ankit Kumar Mishra topped Maharashtra, Gudipati Aniket topped Jharkhand, Akash Jyoti Sahu topped Mizoram, Ashmit Singh topped Daman and Diu, Avinav Bhardwaj topped Bihar, Prince Kumar Gupta topped Arunachal Pradesh, Kaustubh Sen topped West Bengal, Vishnu Vinod topped Kerala and Parvik Nilesh Dave topped Gujarat. Samiksha Das secured the second position among girls at all India level. Maheshwari said that 35 students in top 100 are from Allen Career Institute as per the results compiled so far. Among these students, 26 are from classroom programmes and 9 are from the distance learning programme.