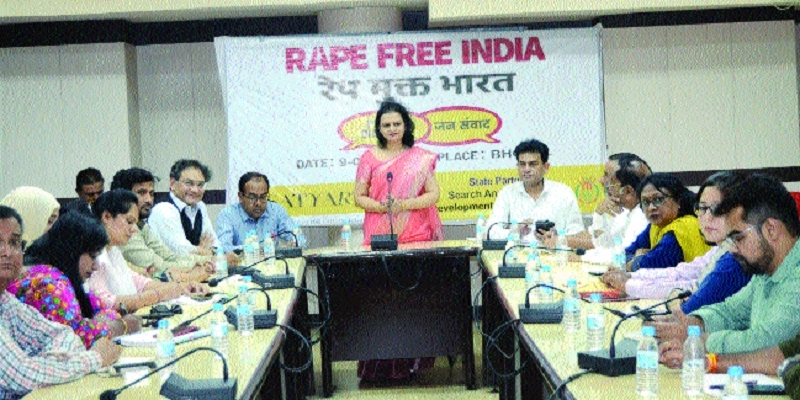 Staff Reporter:
In order to make India Rape free till 2022, 29 Lok Sabha constituencies in Madhya Pradesh have started campaign 'Rape Free India'. Under this campaign, many non-voluntary organisations have joined hands in the city to volunteer many activities to raise awareness.
This campaign is being organised by Kailash Satyarthi Children's Foundation in collaboration with Search and Research Group. Giving information about the campaign, Deshraj Singh from Kailash Satyarthi Children's Foundation said that our focus is to organise pledge and signature campaigns to make nook and corner safer for women and children. Since it is election time it is must that Lok Sabha candidates need to talk about issues related to violence against women and children. They should also pledge to make their constituency rape free. He also informed about whatsapp number facility with which public can be connected with the campaign.
A dialogue was also organised as a part of this series at Ravindra Bhavan on Thursday. Talking in the dialogue representative from World Vision, Jaipur said that it is high time to mobilise people to 'Vote for children'. Children rights need to be protected and people who are voting should know about children issues especially crime against children in their constituency. Candidates who are standing in elections must be asked about core issues related with crime against women and children. Kailash Satyarthi Children's Foundation is a global thought leader for prevention of exploitation and violence against children, working at grassroot level. Organising such a campaign during election is a vital step and it is necessary that every individual in their level should be able to take step to make city safer, says Vibhanshu Joshi, social activist. Dr Monika Jain from Search and Research Group said that in total 350 political party representatives in State have signed pledge to make city safer for women and children in their respective constituency.
This includes Jyotiaditya Singh, Pramila Singh, Kamal Singh Marawi, Dhal Singh Bisen, Faggan Singh Kulsthe, Virendra Singh etc. NGO volunteers said from total budget about 10 per cent budget should be allocated for curbing all kind of sexual exploitation of women and children. Besides they also demanded that any person accused of sexual exploitation should not be allowed to contest election. A State-level signature campaign will also be planned where social networking will be used as main tool to make this issue a crucial part in elections.