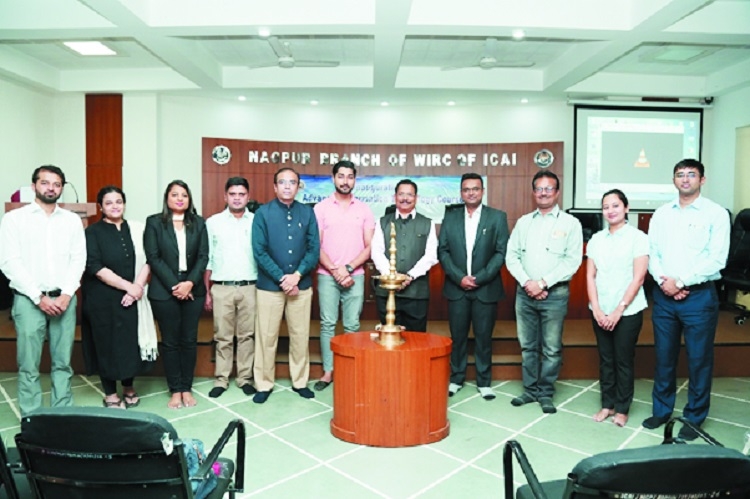 Business Bureau:
"Students pursuing Chartered Accountancy course, need to bear in mind that hard work, dedication, commitment and perseverance are the four crucial factors that ensure due colours of success in one's life," said Prateek Parihar, a very known face of Indian film and television industry. Prateek Parihar who was the chief guest was addressing the august gathering on the occasion of inaugural of 36th Advanced Information Technology and 38th Advanced Management & Communication Skills batches at Nagpur Branch of WIRC of ICAI. Prateek who has done LLB from the prestigious M. S. Ramaiah College of Law, Bangalore, in no time established due connect with the students of Chartered Accountancy, registered for the said courses designed by the Institute of Chartered Accountants. Just as Prateek has successfully carved his place in the hearts of television audience through his very popular TV shows like Aadat Se Majboor on Sony Sab, Chakravartin Ashoka Samrat on Colors, Yeh Hai Mohabbaten on Star Plus, CID on Sony, Kumkum Bhagya on Zee, he effectively succeeded in leaving his memories in the hearts of all present.
He suggest that every person should read the book 'The Secret' as he strongly believes that the more you think about failures that have occurred in your past life, negative things gets attracted in your life and you constantly surround yourself with negative vibes; however if you constantly see yourself as a successful person that you want to become, the one day you will surely attain your goal. He said, students should start taking every incident that takes place in life positively. He strongly emphasised on the power of focus, determination and positive thinking to achieve success in life. "Everybody has to face rejection in his/her life, but it is upon us how we take that rejection," he added. Prateek said, one should be persistent in his hard work and destiny will shower flowers of success.
"Every person should love constructive work whatever he or she is doing," he suggested. Prateek ended his speech in his filmy style by quoting the famous dialogue from a Bollywood movie "Agar Kisi Cheez Ko Dil Se Chaaho Toh Puri Kayanat Usey Tumse Milane Ki Koshish Mein Lag Jaati Hai." CA Kirit Kalyani, Vice-Chairman of the Branch co-ordinated the event. He recognised the concentration and active presence of Harish and Divya, being the students, during his tricky questions in the inaugural session. The faculties for the courses CA Nikita Chawla, CA Aniruddha Ghude, CA Riddhi Saboo and CA Shikha Agrawal were recognised and welcomed by the Nagpur Branch of WIRC of ICAI.
Prateek Parihar's story will inspire CA students, says Duragkar
CA Suren Duragkar, Chairman of the Nagpur Branch of ICAI extended warm welcome to Prateek Parihar on his maiden visit to the Branch. He said, struggle in life is inevitable in any profession. He stated that Parihar being an artist has struggled a lot in establishing his career in film industry. "So by sharing his story the students pursuing CA profession will get insight and motivational for their future life," he said. He conveyed that Prateek happens to be a very bright student of Acting Academy of Mr Anupam Kher. Just as the due efforts and training have made him achieve a commendable mark in his acting profession, the effective training sessions in the form of Advanced ITT and Orientation Course, designed by ICAI, are going to lend upper edge and due success in profession, Duragkar said. He wished all success to the students registered for the course.