Business Bureau
Butibori Manufacturers Association (BMA) has organised a seminar on 'Statement of Financial Transactions' under Income-Tax Act 1961 for the benefit of its members. Sandeep Bandhu (IRS) Director of Income-Tax (Intelligence and Criminal Investigation) and G K Bhoyar, Income Tax Officer were speakers for the seminar.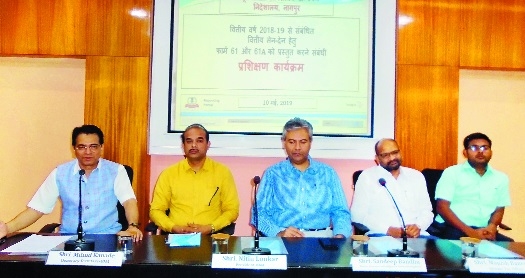 CA Milind Kanade, Nitin Lonkar, Sandeep Bandhu, Director (I&CI), ITO G K Bhoyar, ITO Ratnesh.
Nitin Lonkar President of BMA, CA Milind Kanade,. Secretary extended warm welcome to the Income-Tax authorities. Speaking on the occasion, Sandeep Bandhu shed light on topics like statement of financial transactions, Income- Tax Return processing at Central Processing Centre situated at Bengaluru, data analysis carried out by Income-Tax Department, mandatory quoting of PAN and appealed to all the members to form a 'tax compliant society.
ITO G K Bhoyer made a presentation about machinery provisions of applicable sections of Income-Tax Act and responsibility of reporting about statement of financial transactions. Bandhu and Bhoyar replied the queries put forward by members of Butibori Manufacturers Association.
Summing up the event CA Milind Kanade informed the authorities that BMA is an association of law abiding industrial members and it endeavors to educate its members about the laws and various regulations having impact on industries.
Large number of members of BMA attended the important seminar. Prominently present were Manish Sanghavi, Shashin Agrawal, Alkesh Saraf, Yuvraj Vyas, Punit Mahajan, Subodh Deulgaonkar, Hitesh Agrawal, Ashish Dashasahastra and ITO Ratnesh, Shrihari Garge from Income Tax Department, Nagpur.