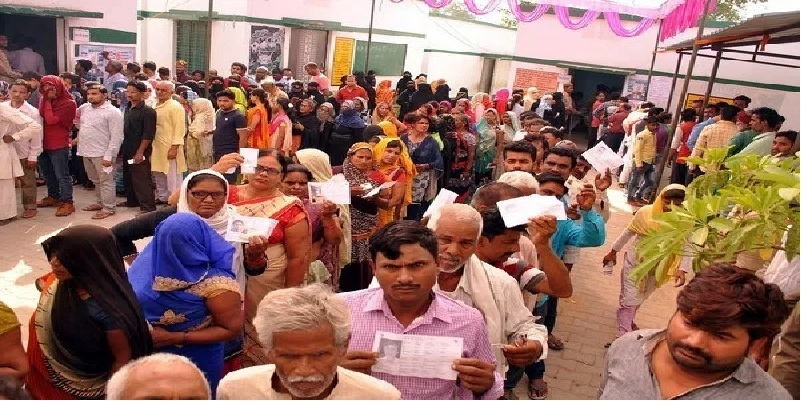 Singh had a face-off in Sultanpur, with the BJP leader warning him that hooliganism will not work. Singh dismissed her charge. BJP MLA Dinanath Bhaskar and four others allegedly beat up a presiding officer in the Aurai Assembly segment in Badohi, accusing the official of deliberately slowing the polling process. Poll officials have sought a report on the matter.
Akhilesh is trying to retain his father and SP founder Mulayam Singh Yadav's seat against Bhojpuri film star 'Nirahua' of the BJP in Azamgarh. In Bihar, around 59.38 per cent turnout was recorded for the eight Lok Sabha seats. A polling officer was killed at a booth in a freak incident of firing by a home guard before polling started in Sheohar constituency. EVM malfunctioning was reported from a few booths.
Haryana recorded around 69.50 per cent turnout in 10 Lok Sabha seats and officials said no untoward incident was reported and polling remained peaceful in the State. However, Congress' Rohtak candidate Deepender Singh Hooda, who is seeking re-election for a fourth term, accused Haryana Minister and Rohtak MLA Manish Grover of "intimidating" voters by forcibly entering some polling booths.
Grover, however, rejected the charge claiming that Deepender, who is the son of former CM Bhupinder Singh Hooda, made baseless allegations in the face of "imminent defeat". Union Ministers Rao Inderjit Singh and Krishan Pal Gurjar are among the 223 candidates in fray in Haryana.
In Jharkhand, an estimated 65.17 per cent turnout was recorded for four Lok Sabha seat. Officials said no untoward incident was reported. Madhya Pradesh, which recorded 64.55 per cent turnout, saw several heavyweights contesting the polls. Eight constituencies went to polls Sunday. In Bhopal, Congress veteran Digvijay Singh was locked in a battle with BJP candidate and 2008 Malegaon blast accused Pragya Singh Thakur.
Congress General Secretary Scindia, who is seeking re-election from Guna seat, is locked in a battle with BJP's K P Yadav, who is contesting his first general election. Former Chief Minister Shivraj Singh Chouhan and his family members voted at their native village Jait in Vidisha Lok Sabha seat. Union Minister Narendra Singh Tomar, who is the sitting MP from Gwalior, is contesting from Morena.