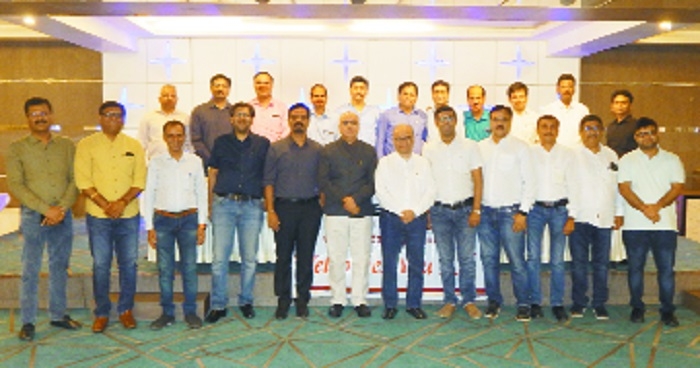 Business Bureau;
The new team of CREDAI Nagpur Metro led by Mahesh Sadhwani, President, for the year 2019-21 was installed recently. Santdas Chawla has been elected unanimously as Chairman for the period of two years. It's an honorary post for the term 2019-21. Immediate Past President Anil Nair announced and felicitated the elected team. The elected team includes Gaurav Agarwala as General Secretary and Ashok Chandak as Treasurer. The team also includes vice-presidents- Vijay Dargan, Vishal Agrawal, Ashish Londhe, Ekalawya Wasekar, joint secretaries- Rajendra Bose, Vijay Singh Thakur, Chandrashekhar Khune, Jethanand Khandwani.
The executive members are Abhishek Javery, Jatin Malviya, Madan Ratan, Mohan Choithani, Nitin Dethe, Prashant Wasade, Rajmohan Sahu, Shashank Pande, Tarak Chawla, Vijay Joshi, Vinod Kubde, Vivek Kunnawar, Yashwant Khodke. Immediate Past President Anil Nair wished the new team a great success and expressed his faith and trust that the new team would work to take the Association to new heights and work for the betterment of the fraternity.
General Secretary elect Gaurav Agarwala in his remarks briefed how CREDAI has earned a reputation in front of authorities and acting as a good felicitator between the Government and stakeholders. President elect Mahesh Sadhwani in his address thanked all senior members of the Association for reposing the faith in him to lead the team. Members of CREDAI Nagpur are committed towards transparent working with the Government and also with property buyers; they are responsible and socially committed entrepreneurs. He also mentioned about the proposed changes which State Government has put forward through the Unified DCR Rules for Maharashtra State.
By this Government of Maharashtra plans to bring a Unified DCR for all Municipal Corporations (excluding Mumbai), municipal councils, municipal panchayats and metropolitan regions. Currently all cities and towns have their own development plans. Therefore DCR of all cities and towns are different. The function concluded with the vote of thanks given by Treasurer Ashok Chandak.