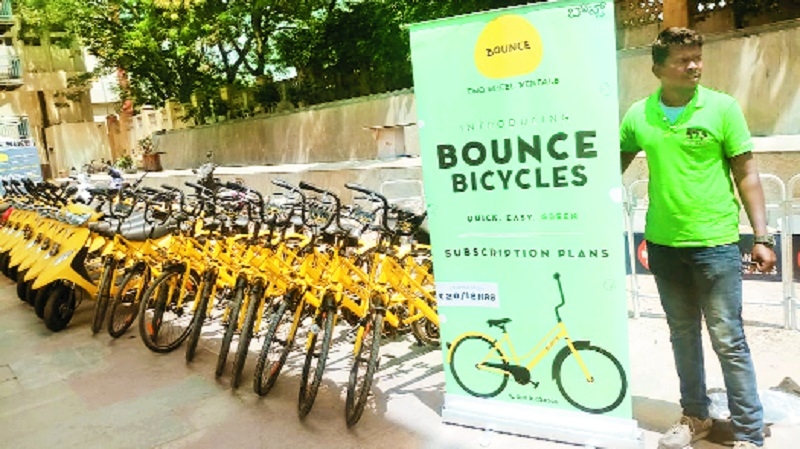 By Praveen Vighre:
A Bengaluru-based start-up called Bounce Cycle, offering a unique concept of providing bicycles on sharing basis, is on expansion spree. The company operating from select locations in the city is all set to start its services on new locations spread across the length and breadth of Nagpur. In an attempt to give city's commuters one more option for transportation, the company had recently launched 'smart urban mobility solution in' in association with Maharashtra Metro Rail Corporation Ltd (MMRCL) offering bicycles on monthly rental targeting passengers of Metro Rail.
Till now the facility was available at only four metro stations in Nagpur. But now the company is looking forward to tap commuters other than those traveling by Metro Rail as a part of the company's long-term objective of addressing first and last mile connectivity issues in cities. Nikhil Bhartia, Channel Partner of Bounce Cycle for Nagpur, while talking to The Hitavada said, "We are looking at providing easy, safer, efficient, economical and sustainable mode of urban transportation. And thus we are expanding our service in new areas." To begin with, Bounce Cycle had launched the facility wherein it was running a fleet of 150 cycles from select spots. But now the company is extending it and adding about 400 bicycles 400 bicycles so that it could offer it to larger number of clients.
"We have already made available 200 new bicycles at Walker Street, Chapparu Nagar, Diksha Bhumi, K T Nagar near Friends Colony. Very soon we will add the remaining bicycles at these locations," he said. \The company representatives are attracting health and environment conscious people, morning walkers at public places and demonstrating the products.
"We are getting good response from the people as the bicycles are quite convenient good for short distant work. People can also use it to go to their respective work places. We wish to make it popular among the city commuters so that we could get rid of traffic congestions and parking issues. The company is offering bicycles on monthly rent of Rs 300. Those who wish to take the bicycle on rent need to to give KYC documents. Bhartia said people of metros like Bengaluru, Chennai, Mysuru, Pune are familiar with the product.