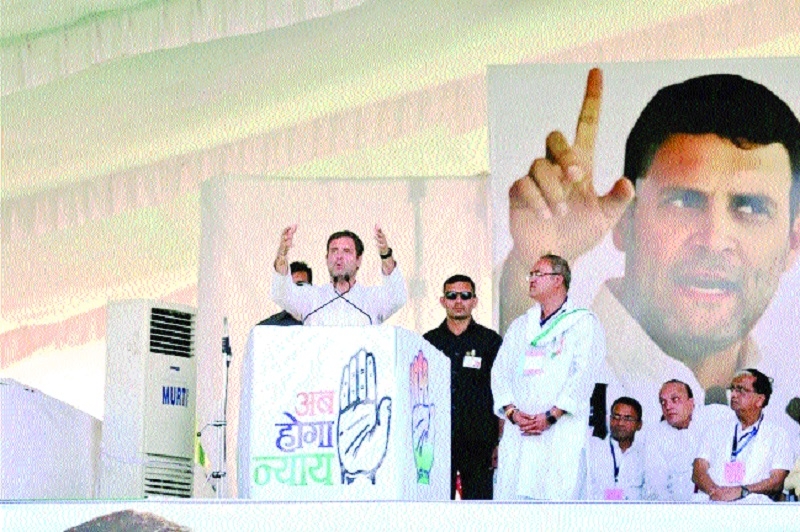 Staff Reporter:
Takes a jibe at Modi's cloud cover theory on Balakot attack
"PM Narendra Modi insults my father, grandmother and grandfather …I will die but will never insult Modi's mother and father because I am not from BJP and RSS, I am a Congress person. We will defeat Narendra Modi in election and will remove him through love," said AICC President Rahul Gandhi while addressing rallies in Neemuch, Tarana and Khandwa on Tuesday.
Taking a jibe on PM Narendra Modi's cloud cover theory on Balakot air strike, he said that PM tells Air Chief that as its cloud and storm hence Balakot strike should be done as in such weather radar could not detect Indian planes. He also raked up issues pertaining to demonetisation, Rs 15 lakh promise of BJP, firing incident against farmers in Mandsaur during BJP rule, farmers' suicide, big businessmen fleeing with huge sum, GST, Rafale deal etc and told that NYAY scheme of Congress will give Rs 72,000 per year to five crore people and lakhs of people will get connected with small jobs.
Appealing people to vote for Congress's NYAY scheme, he asserted that PM Narendra Modi is unable to speak on corruption. He asserted that Modi said in Mandsaur that he is standing with farmers and when firing happened with farmers in Mandsaur he was not standing with them. Rather he was standing with those fifteen rich persons who flee away with bank money in the form of Chowkidar. Talking about Congress vision to bring separate budget for farmers, he told that Congress will bring two budget, first for farmers and second general budget.
He accused ex-Chief Minister Shivraj Singh Chouhan of lying about Congress government loan waiver scheme by saying that loan of even Shivraj's brother and nephew Niranjan Singh also. Referring to Shivraj Singh Chouhan, he said If Chouhan's family also comes under the cover of loan then their loan would be also waived off. Taking on claim of BJP that country is safe in Modi's hand, he said the worst terrorist attack like Parliament attack, Kargil terrorist, Pulwama attack took place during BJP time.