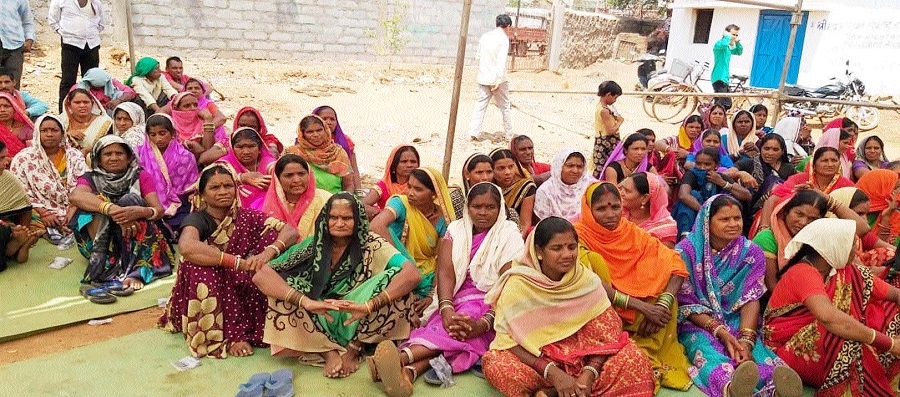 Staff Reporter:
ARANG
Water crisis at village Riwa is aggravating with every passing day. Amidst the growing commotion over drinking water, local youths called on a meeting, which was largely attended by women to ponder on possible solutions of the water shortage. Many suggestions were tabled to counter the water problems. After hearing the suggestions, a consensus was built on installing motor pump on bore below Naiya talab and construction of water tank near Riwa School as temporary arrangement. They also unanimously decided on deepening and beautification of a pond sprawling over 72 acre.
Once the model code of conduct is lifted, a memorandum will be submitted to the Urban Administration Minister Dr Shiv Dahariya regarding the project. With a population of 7,000, Riwa is second biggest village of the Arang Janpad Panchayat. Village starts facing water shortage right from the start of summer every year. Of the 50 hand-pumps, only one at ward-11 works properly while remaining pumps just go dry. Motor pumps are being used to draw water of three other hand-pumps, but the water stream from these pumps stay very thin, which cause a lot of crowding and thus hassle to the women.
Arang to be declared as plastic carry bag free zone Urban Administration and Development Department has decided to declare Arang a plastic carry bag free zone. In compliance to the plastic ban, Arang Municipal Council on Tuesday confiscated huge stock of plastic bags from various business establishments. A notification in this regard was published in the Chhattisgarh Gazette. The proscription will be on manufacturing, storing, selling and usage.
The plastic bags not just clogs the sewer lines, but they are also hazardous to the environment and cattle. In compliance to the ban, Arang Municipal Council officials impounded nearly 1 quintal plastic carry bags in past few days. Close to 0.50 quintal bags were confiscated from shopkeepers on May 13. Officials also imposed up to Rs 1,350 on them. These actions are to prevent use of plastic carry bags. Council will continue with this type of action in the future also. In this drive, officials as Chief Municipal Council Officer Saurabh Sharma led the team of Assistant Engineer B R Sahu, Sub-Engineer Poshan Sahu, Nandkumar Patel, Mannulal Tondre, Taansingh Dhruw, Kumar Dhruw, Laxman Pal, Sunil Banjare, Brijmohan Sahu, Ankita Chandrakar, and Tarla Soni under the protection of police contingent took the action.