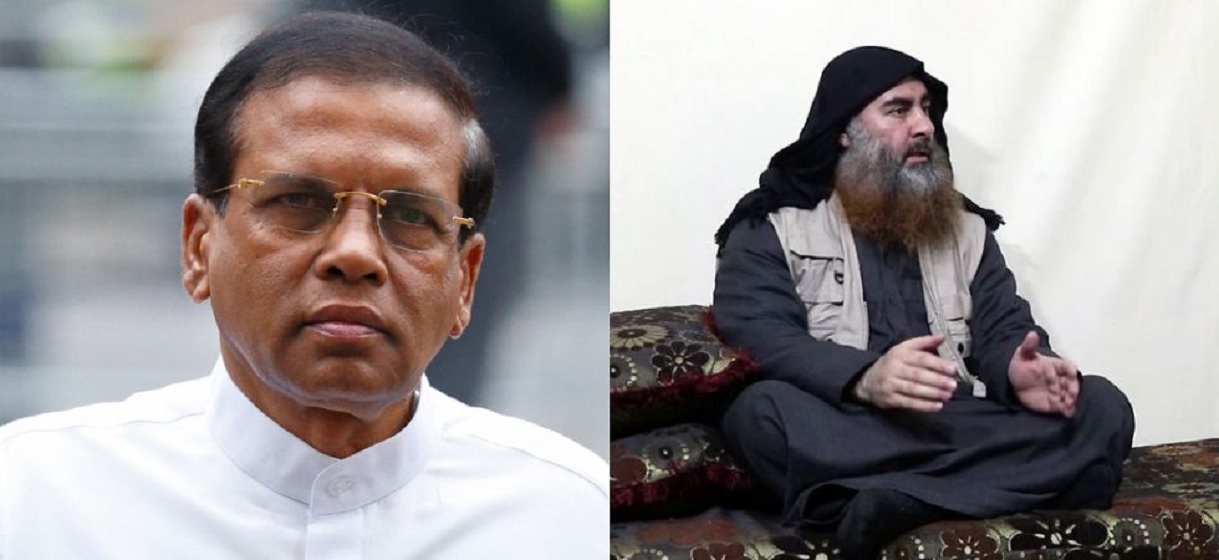 COLOMBO:
SRI Lankan President Maithripala Sirisena on Wednesday asked Abu Bakr al-Baghdadi to "leave my country alone" after the dreaded Islamic State leader claimed the massive suicide bombings in the island nation was a revenge attack for the fall of the Syrian town of Baghuz, the terror group's final bastion. Sirisena also warned it may be possible Islamic State had launched a "new strategy" by targeting smaller countries, Sky News Wednesday quoted him as saying.
He said authorities were aware of a "small group" of Sri Lankans who had travelled abroad to receive training from Islamic State over the past decade. In the Sky News interview, President Sirisena said he had a message for Islamic State: "Leave my country alone." On Monday, Islamic State's media network published a video message purporting to come from its leader, Baghdadi. The man in the IS propagada video, said to be Baghdadi referred to the deadly Easter Sunday attack in Sri Lanka and to the months-long fight for IS's final bastion Baghouz, which concluded in March. "The battle for Baghouz is over," he said. "God ordered us to wage 'jihad.'
He did not order us to win," he said. In a segment where Baghdadi is not seen, his voice referred to the April 21 attacks in Sri Lanka, which killed 253 people and wounded nearly 500, as "vengeance for their brothers in Baghouz". The US-led Kurdish fighters took over the last pocket of land in Syria held by IS recently. Baghdadi, who is now 47, appeared last time in public in Mosul Iraq, in 2014, where he declared an Islamic "caliphate" in the swathes of territory IS then held in Syria and Iraq.
Meanwhile, Prime Minister Ranil Wickremesinghe said the whole world should be on alert following the threat by the eluvsive IS leader.
Cable operators in Sri Lanka block Zakir Naik's Peace TV
COLOMBO:
TWO of Sri Lanka's major cable TV operators, have dropped controversial Indian Islamic preacher Zakir Naik's Peace TV from their channel following the country's worst terror attacks on Easter Sunday which killed over 250 people, according to a media report.