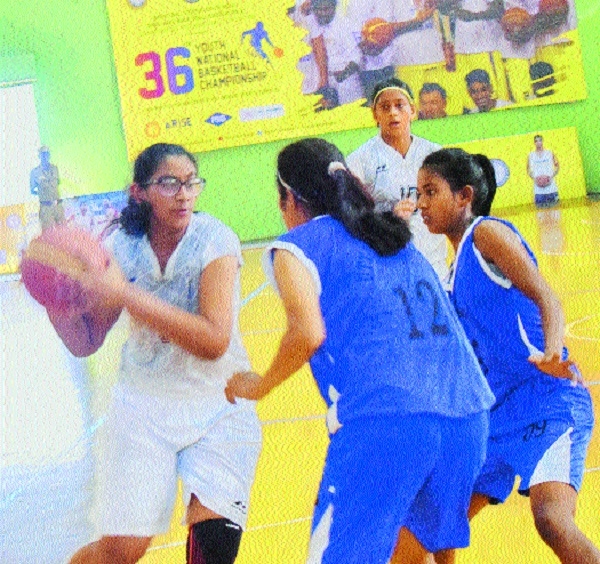 By Mukund Dhus:
COIMBATORE
Maharashtra's boys and girls crashed out of contention in the ongoing 36th Youth National Basketball Championship in progress at Coimbatore. Weary looking boys were thrashed by Chandigarh 54-95 in the pre-quarterfinals while girls were beaten by holders Punjab 50-71 in the quarter-finals. In a totally one sided affair Chandigarh boys dominated overall in the game.
Last year's runners-up, Maharashtra gave a fight in the first quarter but once tall Amrindra Naik and Abhishek started dominating on the boards it was all over for Maharashtra. Ever dependent Nehal Shaikh, Faiz Shaikh and Rajender were all off colour and were not able to find the hoop from any angle. Maharashtra will play for 9th place against MP on Monday. Title holders from the girls category, Punjab had done their home work properly against Maharashtra. Tall Asmat Kaur was not given any space by the Punjab defenders and the result was clear.
Asmat, who averaged 18 points in the league, could manage only 4 points in this match. Her failure in the offence did affect her performance in the defence too. Punjab grabbed as much as 38 offensive rebounds to expose the poor defence of Maharashtra. Only Shomira Bidaye could keep the score board moving for Maharashtra but she too missed many under baskets. Surprisingly she could convert only 4 of the 14 free throws that came to her lot! Even Saee Deshmukh, Melody Menezes, Riccha Ravi and Saanvi Gholap failed to deliever when it was much needed. The bench also miserably failed making it a one sided affair in the second half. Last years bronze medalist Maharashtra will now play for fifth to eighth ranks. MAHARASHTRA'S RESULTS:
Boys: PQF: Maharashtra 54 (Imran Khan 10) lost to Chandigarh 95. Girls: Quarter-finals: Maharashtra 50 (Shomira Bidaye 24) lost to Punjab 71. OTHER RESULTS: Boys: Pre-quarterfinals: UP bt MP 77-67; Chandigarh bt Maharashtra 95-54. Quarter-finals: Karnataka bt TN 80-77; Kerala bt Punjab 64-60; Haryana bt UP 96-93; Rajasthan bt Chandigarh 74-53. Girls: PQF: UP bt Chandigarh 77-35; Delhi bt Haryana 75-72. Quarter-finals: Rajasthan bt Karnataka 63-52, Punjab beat Maharashtra 71-50, TN beat Delhi 90-61, Kerala bt UP 80-48. On Monday: Boys: Final: Winner of (Raj vs Ker) to play winner of (Har vs Kar). Girls: Final: Winner of (Ker vs Pun) to play winner of (TN vs Raj).