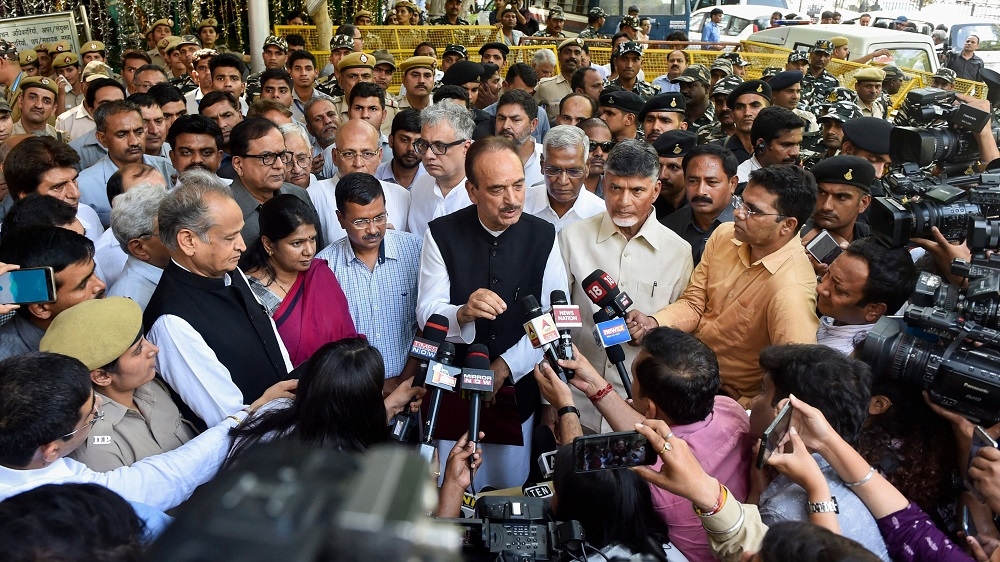 NEW DELHI:
THE Election Commission (EC) on Wednesday rejected the demand of Opposition parties which sought tallying of VVPAT slips for an entire Assembly segment if even one of the five samples does not match with votes polled in EVMs. The current provisions say five randomly-selected Electronic voting Machines (EVM) will be verified in each assembly segment with the VVPAT slips. The decision comes a day after leaders of 22 Opposition parties, led by TDP chief and Andhra Pradesh Chief Minister N Chandrababu Naidu, met EC officials and alleged discrepancies in EVM machines. They also demanded that the EVM-VVPAT tally should be done at the beginning of the process of counting.
Though the EC made it clear to the 22 Opposition parties on Tuesday that the old protocol for counting the paper slips will continue, its top officials met on Wednesday and decided against making any last-minute changes to the way they are to be tallied. "If any discrepancy is found in the tally, then VVPAT for the whole assembly segment should be counted. We do not know what is the problem of the Election Commission? "Former Chief Election Commissioner has also endorsed our demand. Former President (Pranab Mukherjee) also made it very clear that EC should keep transparency and create confidence among Indian voters," Naidu had said after the meeting on Tuesday.
Shah slams Oppn for doubting EVMs
NEW DELHI:
BHARATIYA Janata Party (BJP) President Amit Shah on Wednesday slammed the Opposition over its doubts on EVMs, saying that the rival parties are rattled by their likely defeat and are "tarnishing" India and its democracy by raising questions on its electoral process. He also termed as unconstitutional the demand of 22 Opposition parties that the Election Commission change its counting protocol and count five random VVPATs first, saying any decision in this regard is not possible without an all-party consensus.
Shah tweeted that Supreme Court has given final shape to electoral process by hearing three PILs and asked if the opposition is raising questions on the apex court. Any opposition to EVMs is disrespect to people's mandate, he said, adding that many rival parties came to power through elections done through EVMs.