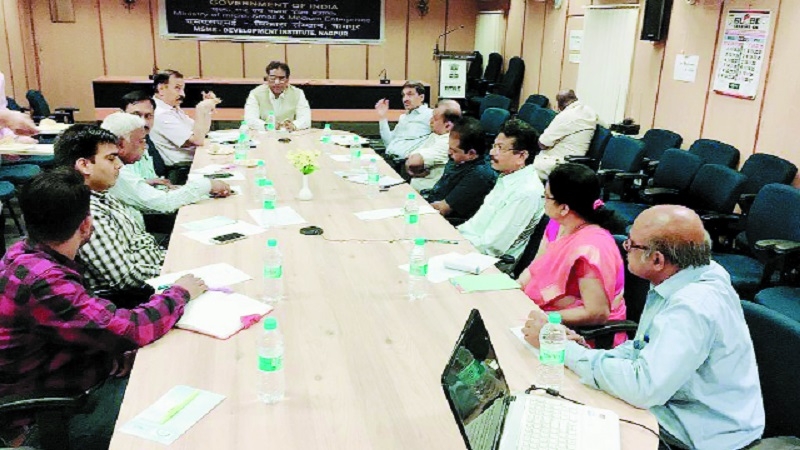 Business Bureau:
To review the progress of Common Facility Centres (CFC), a meeting under Micro, Small Enterprises Cluster Development Programme (MSE-CDP) was organised in MSME-DI Nagpur recently under the Chairmanship of Director, P M Parlewar. Representatives from various clusters and Joint Director of Industries, A P Dharmadhikari and Gajendra Bharti, General Manager, DIC, Nagpur were present during the meeting. At the outset, Parlewar welcomed all the representatives and members present and explained them in brief the objective of calling the meeting.
He highlighted that the turnover of the three clusters is increasing rapidly. This has also provided opportunity for new entrepreneurs to set up their units and to generate new employment in and around Nagpur. He said that there should be transparent facility/system where non-SPV members can take benefit of CFC facility and benefit from utilizing the facility along with SPV members. He stressed the importance of proper documentation wherein exact and accurate data is made available.
For this purpose, he appealed to all the cluster members to give exact data like number of people trained by their CFC, improvement in their salary, number of units increased, how much production is increased, number of machines procured. Parlewar also informed that DC(MSME) New Delhi has planned a strategy for export boosting and for that handholding support will be provided by MSME-DI. Similarly Nagpur MSME office is National Resource Centre for EFCs for inducing mini clusters in SEZs.For creating awareness amongst non SPV members, wide publicity should be given to CFC, he suggested. He also suggested to SPV members that during all their meetings, MSME-DI, JDI and DIC officers should be invited by giving prior notice of the meeting.
Dharmadhikari said that it is time to assess the impact of cluster. "More awareness should be created as lots of people are not aware that the facility provided by the Government," he said. He lso said that a system should be created wherein people can register themselves to use the facility. He told the participants that CFC members that proper documentation is needed and review should be done regularly before and after CFC formed. Under the scheme Ministry of MSME, Government of India, three Common Facility Centres are established namely: Garments Cluster, Dal Mill Cluster and Rice Mill Cluster in Nagpur. The CFC consists of common manufacturing process, testing facility, training facilities, etc. The state-of-the-art machines imported from Japan and China are installed in these CFCs. This has resulted in capacity building of our MSMEs in and around Nagpur.
Now with the help of these facilities MSMEs will be able to manufacture international level quality products and enable to export their products. These facilities are not available anywhere esle in Maharashtra or nearby states thus it will enable the MSMEs of Nagpur to cater to the entire Maharashtra and nearby states. The meeting ended with vote of thanks to the chair by Sunil Khujnare, Asistant Director, MSME-DI, Nagpur.