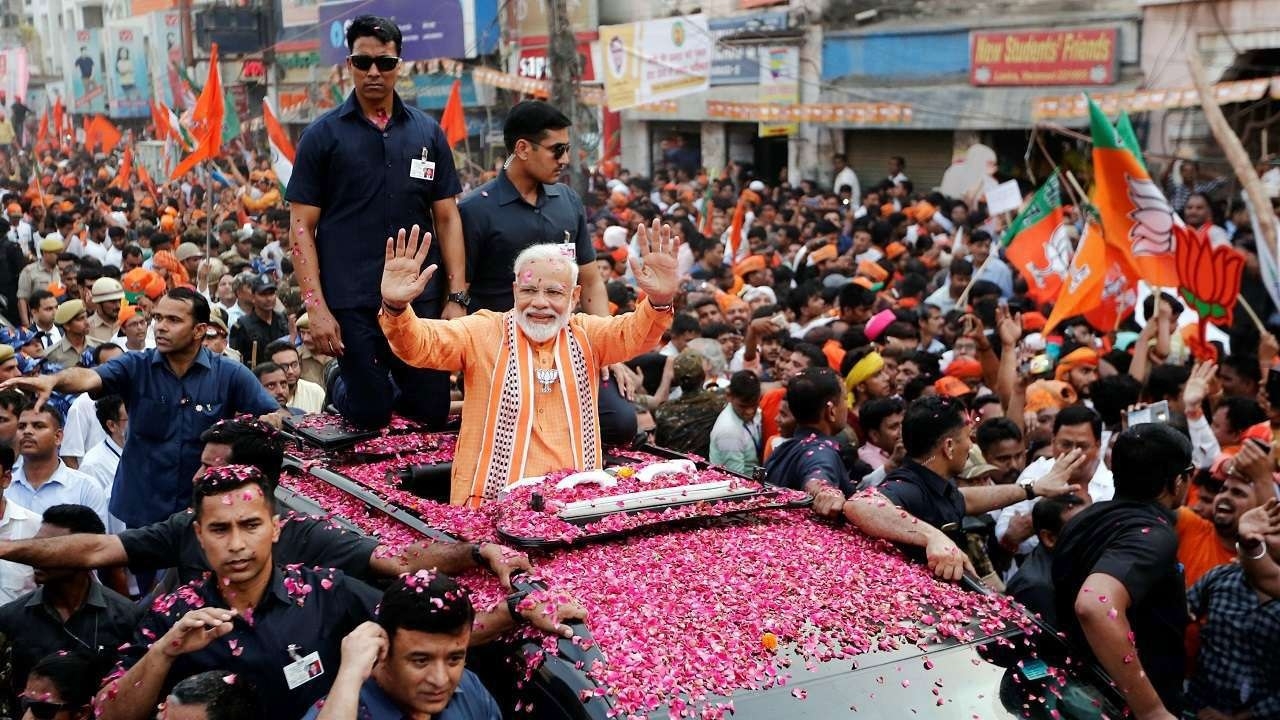 NEW DELHI:
NDA returns with record numbers
Incumbency wave sweeps Oppn off feet
Rahul loses Amethi, saves face in Wayanad
Congress President concedes defeat, congratulates Modi
PRIME Minister Narendra Modi on Thursday led his Bharatiya Janata Party (BJP) towards a super-sized victory for a second term in office, as his message of nationalism, security, Hindu pride and a New India was wholeheartedly embraced by voters across large swathes of the country. With the elections establishing the 68-year-old Modi as the most popular leader in decades, the partial vote count released by the Election Commission showed that BJP will surpass its 2014 performance, and likely cross 300 seats.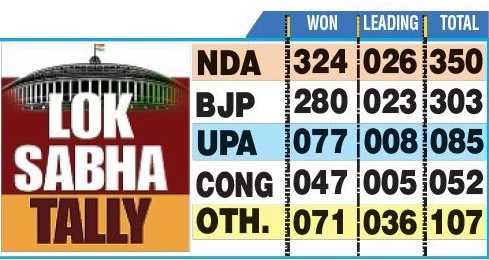 Until 2.00 am on Friday, the BJP had won 280 seats and was leading in 23 of the 542 Lok Sabha seats that went to polls in seven phases in April and May. It demolished the combined Opposition with the Congress Party stuck at 47confirmed victories and a lead in 5 seats, according to partial results. Modi himself won from Varanasi seat defeating his nearest rival SP's Shalini Yadav by a huge margin of 4,79,505 votes, bettering his previous margin. Modi polled a total of 6,69,602 votes while his nearest rival, Shalini Yadav of the Samajwadi Party (SP), got 1,93,848.
Ajay Rai of the Congress got 1,51,800 votes. BJP President Amit Shah was declared elected from Gandhinagar Lok Sabha seat by a margin of 5.57 lakh votes against his nearest Congress rival C J Chavda. The results have raised questions about Gandhi's leadership and his party's future. On the other hand the results are a ringing endorsement of Modi's popularity, his Government's achievements in the last five years and his campaign, which centred around national security following the Balakot airstrikes, nationalism and Hindutva. He also relentlessly attacked the Congress Party for what he called its dynastic legacy, and blamed it for the country's woes, including endemic corruption. The Opposition had criticised the BJP campaign as divisive and polarising.
Still, the results show that the Modi wave and the party's brilliant election management swept across geographies, caste lines, age, gender and economic status. In the politically critical State of Uttar Pradesh, where the Samajwadi Party-Bahujan Samaj Party combine had posed a stiff challenge, the BJP and the Apna Dal (S) consolidated their position, winning 54 seats together out of 80 seats at stake. Although the BJP had won 71 seats in the last elections, the performance is far better than the 30-40 seats many exit polls had forecast. The Modi wave not only swept through the Hindi heartland and Gujarat, as was expected, but also bulldozed through West Bengal, Odisha, Maharashtra and Karnataka. Only Kerala, Tamil Nadu and Andhra Pradesh appeared untouched. Even in Telangana, where it was expected to fare poorly, the BJP is expected to win four seats, while the Telangana Rashtra Samiti will get nine.
The results were staggering for BJP in the Hindi-speaking states, including those where Congress had won in the recent Assembly elections: it swept all but one of the 29 seats in Madhya Pradesh, 25 out of 25 in Rajasthan and nine out of 11 in Chattisgarh. Similar was the story in Bihar, Haryana, Himachal Pradesh, Uttarakhand, Maharashtra, Delhi and notably Karnataka, where it is expected to win 25 out of 28 seats. Among the big-name casualties were Congress leaders Mallikarjun Kharge who lost his Kalburgi seat in Karnataka and Jyotiraditya Scindia in Madhya Pradesh. The Congress won not a single seat in 18 States.
The BJP also made huge gains in Odisha, West Bengal and Telangana In Odisha, the BJP was ahead in eight of the 21 seats, up from one last time. In West Bengal, it was expected to win 18 seats, up from two in 2014, all at the expense of the Left. In Telangana, it was set to win four. Congress ally DMK was ahead in 20 seats in Tamil Nadu while in Kerala, the Congress-led UDF was ahead in 19 out of 20 seats. The voting was staggered between April 11 and May 19 in which around 67 per cent of the nearly 900 million eligible people exercised their franchise to elect 542 members of the Lok Sabha from a total of 8,049 contestants. Out of the 543 Lok Sabha seats, elections were held in 542 constituencies as the EC had cancelled polls to the Vellore constituency on the ground of excessive use of money power.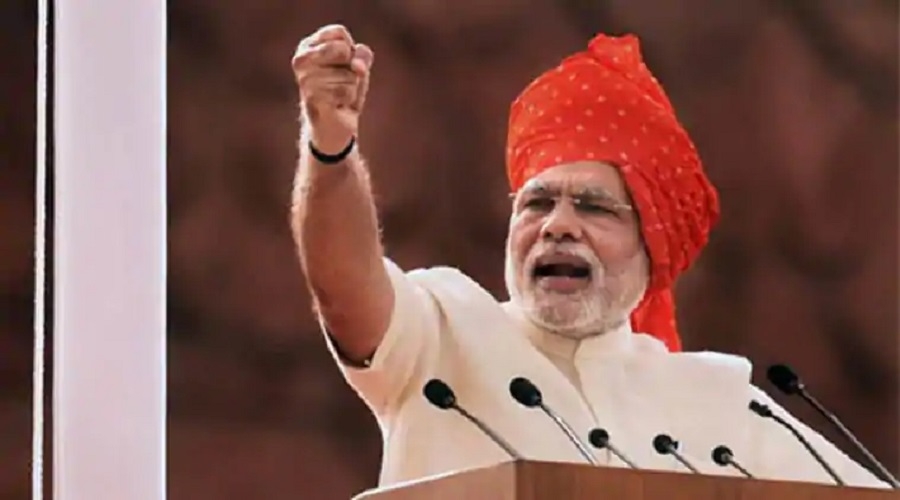 Every grain of my being devoted to nation: Modi
NEW DELHI:
PRIME Minister Narendra Modi on Thursday promised to devote "every moment" of his time and "every grain" of his being for the people of India and said the country will now have only two castes -- the poor and those who want to alleviate poverty. In a rousing speech at the party headquarters here to celebrate the Bharatiay Janata Party's spectacular victory, the Priem Minister told cheering supporters that the election has thrown up a mandate to build a new India. "People are chanting Modi, Modi. But this is not a victory of Modi, it is the victory of people who are desperate for honesty in the system. "It is not Modi's victory, but a win of people's hope and aspirations," Modi said. Striking a conciliatory political tone, he also reached out to his rivals, urging everyone to put the rancour of the bitter and often nasty campaign behind them. What's past is past, he said. "We have to move ahead.
We have to take everyone with us, even our opponents. We have to work for the benefit of the country," he said. "You have filled this fakir's bag with a lot of hope. All your hopes, dreams, ambitions are dependent on it," he said. This is the victory of toiling farmers who struggle to feed the nation, this is the victory of those who now live in proper houses, this is the victory of the middle class which follows the rules, pays taxes, but wondered if his taxes were being used for the benefit of the country, he said. In the last five years, people have realised that the money they are contributing in taxes has been put to nation-building, he said. Addressing the countrymen directly, Modi said he will not do anything with bad intention, even though, he added, he may at times commit a mistake on job.
"I will not do anything for myself," he said, signalling the noisy crowd to keep quiet and then added, "I will devote every moment of my time and every fibre of my being for my countrymen." "Whenever you judge me, judge me on these three parameters. If I fall short on these, curse me. But I assure my countrymen that what I have said in public I will do my best to fulfill," he said. Values and spirit of democracy and the Constitution enjoin his Government to take everyone along as the country is run with consensus, he said. In a jibe at BJP's rivals, who are seen as the secular counter to the party's Hindutva agenda, he said people who used to proudly wear a "fake tag" of secularism did not talk about it at all. "The Opposition did not dare to mislead the country while wearing the false mask of secularism.
The Opposition did not accuse us of raising prices. All previous elections were fought on corruption issues. This was the first one in which any political party could not level even one charge of corruption," he said. People in the 2019 elections have put forth a new narrative, he said, adding that only two "castes" will remain in the country; the poor and those contributing to alleviating poverty. Voters have dealt a huge blow to the parties doing politics in the names of castes, he said. The Prime Minister said the verdict has vindicated his view that it was not parties but people who fought this election. Modi also drew a Mahabharat war parallel with the elections. Krishna was asked after the war which side he supported and he answered that he stood for Hastinapur, and people have spoken in the elections that they stood for India, the Prime Minister said. "We were not disappointed when we won only two seats (in 1984). We will not leave our humility, ideals and values when we have come back to power," Modi said.