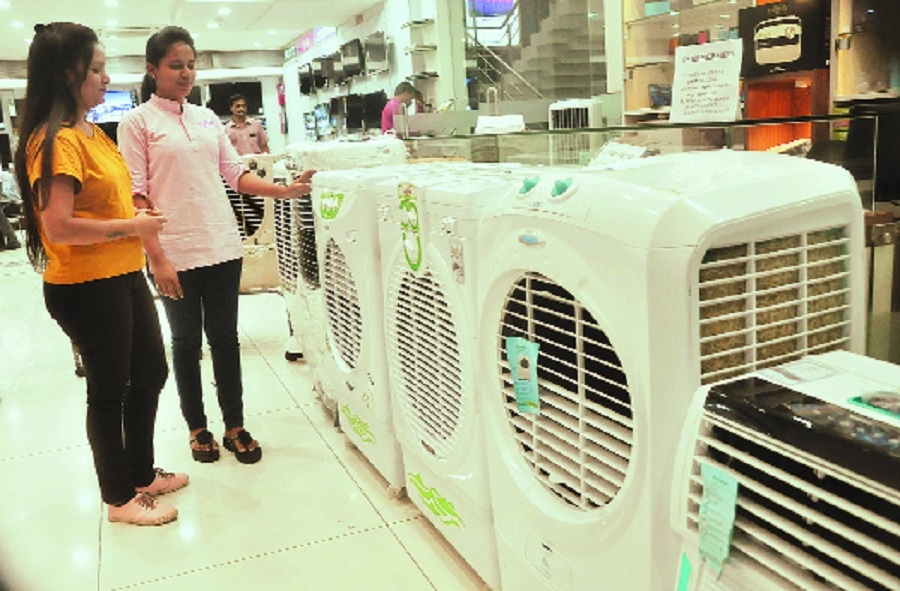 Business Bureau;
WITH temperature soaring to unbearable levels, people in this part of the country are making all possible attempts to stay cool. Some are buying air conditioners while others are going for air coolers. It is quite a normal phenomenon every summer. But a noticeable change in the current scenario is that people are showing great interest in the new pattern of air coolers that are made of polycorbonate. Though the polycorbonate coolers are not new for the people here, it is gaining popularity this season because of its various user friendly features.
"The growth in demand has surged by more than 20 per cent as compared to year ago period," said Nihar Taori, Director of Taori Marketing, Dharampeth while speaking to The Hitavada. The polycorbonate coolers are attracting customers as they come with sleek looks, wide range, requires less space and offer a host of features like remote control, humidity control etc. Other advantages include low power consumption, rust proof, shock proof, long life, use of honeycomb cooling pads, less maintenance and finance facility options which is attracting customers in large numbers. Looking at the requirements and needs of customers, many air conditioner manufacturers have started making these fibre body coolers in attractive designs to woo customers. The leading brands are Voltas, Ken Star, Blue Star, Usha, Cello, Havells, Bay Breeze, Wox, Nice, Ram Coolers, Bay Breeze, Symphony etc.
They have carved out an altogether new segment, apart from metal body desert coolers and air conditioners. These air coolers are mostly used for cooling small spaces. Business establishments, shops, showrooms and offices where there is dearth of space are making the best use of these room coolers, Nihar said. More people are shifting from metal body desert coolers and preferring to buy fibre body room coolers due to their aesthetic looks. Apart from this, these coolers are not very expensive. The price range starts from Rs 4,000 and can go upto Rs 22,000. The demand for these coolers is growing because the fibre body air coolers come in different shapes and sizes. They can be accommodated on the walls, corners or just about anywhere in the room.
Some come in slim and tall shapes which require very little space. These fibre body air coolers are most sought after by customers who want aesthetic looking air coolers which blend in with well done interiors. A K Gandhi, Director of A K Gandhi Electronics said that the demand for fiber body coolers has increased by 25 per cent at his showroom. "This year there has been overwhelming response from the customers. The fibre body coolers segment is growing at a fast pace," he said. The market size is huge and many air conditioner companies have ventured into making these coolers. These companies have raised the quality and standards of the material used in the coolers.
All these measures have attracted customers. "In Vidarbha about 60,000 to 70,000 units are sold per annum, he added. Vedprakash Vedom, Director of Vedoms, said that there has been an up-tick in demand for fibre body coolers this year. dry weather climate in suitable for such type of room coolers, therefore they are in great demand. "The demand has grown by 20 to 25 per cent," he added.