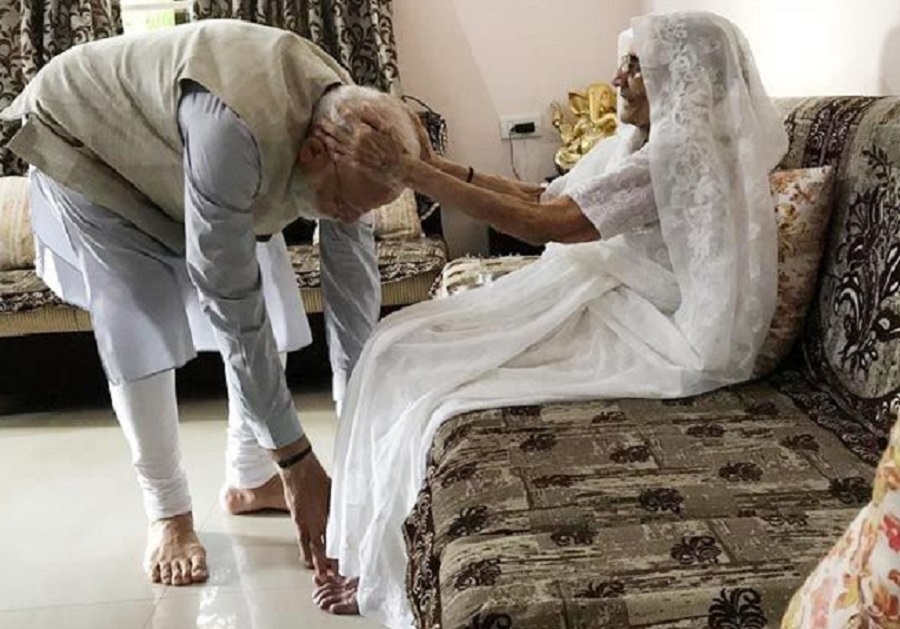 GANDHINAGAR:
PRIME Minister Narendra Modi, who arrived in home State Gujarat on Sunday on a two-day visit after the BJP's landslide victory in the Lok Sabha elections, called on his mother and sought her blessings. Modi, along with BJP President Amit Shah, landed at the Ahmedabad airport and later addressed a thanks-giving public address to the people of Gujarat, which gave the party all the 26 Lok Sabha seats once again. Even as scores of people waited to have a glimpse of him, the Prime Minister then reached Raisan near here to seek his mother Hiraben's blessings.
The nonagenarian stays with Modi's younger brother in Raisan. Modi will halt for the night at the Raj Bhawan. When Modi's convoy arrived at his mother's residence here as scores of supporters lined up on the streets to catch a glimpse of their leader. He was greeted with thunderous applause and cheering. Supporters were seen raising slogans in praise of the Prime Minister while holding placards with his pictures. Security was beefed up during the Prime Minister's visit here.
Earlier on Sunday Modi visited Ahmedabad where he paid tributes at the statue of Sardar Vallabhbhai Patel near the airport. He later addressed a gathering of BJP workers along with party chief Amit Shah and Chief Minister Vijay Rupani. On Monday, Modi is scheduled to visit his parliamentary constituency Varanasi to hold a five-kilometre-long roadshow till Kashi Vishwanath temple amidst heightened security. Thereafter, the Prime Minister will address BJP workers at Deendayal Hastkala Sankul.