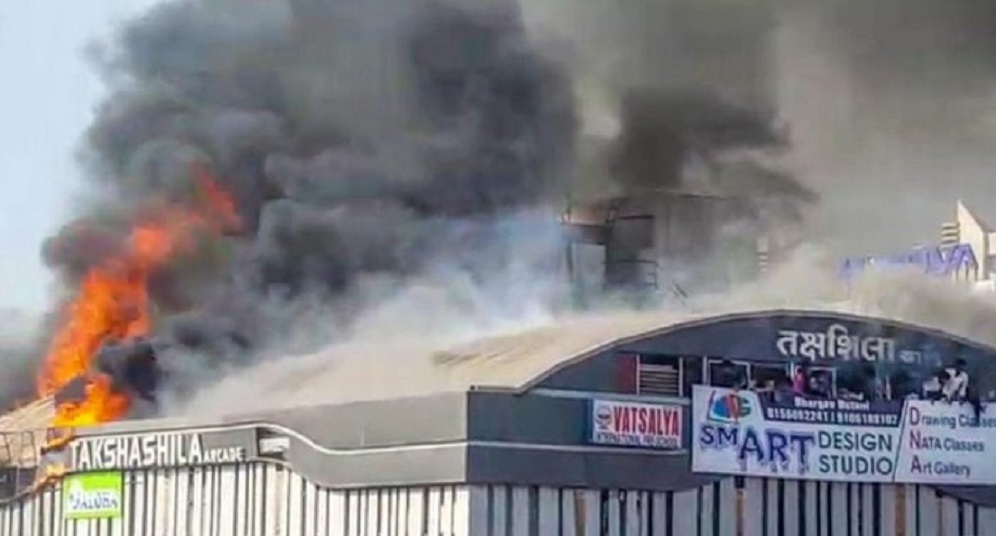 GANDHINAGAR:
PRESENCE of inflammable materials, including flex and tyres, and fire tenders stationed away from the spot contributed to the blaze at a commercial complex in Surat and hampered the fire fighting operation, Gujarat Chief Secretary J N Singh said on Sunday. Twenty-two students, including 18 girls, of an art and craft coaching institute died in the devastating fire that engulfed the four-storeyed Takshashila Arcade in Sarthana area of Surat on Friday.
Preliminary probe revealed that use of highly inflammable materials and tyres, which doubled up as chairs in the coaching class, caused the fire to spread rapidly, Singh said. "The fire spread very quickly because highly inflammable materials, such as flex, were used... The ceiling was just five feet high. The owner used tyres instead of chairs for the students," the Chief Secretary told reporters here. "High-capacity fire tenders took time to reach the spot as they were stationed at a considerable distance, around 45 minutes away. It hampered the fire fighting operation," he said.
2 more accused held by Guj Police
SURAT (Gujarat):
TWO MORE accused have been arrested by Gujarat Police in connection with the Surat fire tragedy which claimed the lives of 23 people, mostly students. "Two accused Harshil Vekarya and Jignesh Pagdal have been arrested," Commissioner of Police Satish Sharma said. So far, three people have been arrested and two fire officers of Surat have been suspended. The fire at Takshashila Arcade in Surat's on Friday, killed 23 students, and injuring many others.