Present Government will fulfill Savarkar's dream of Akhand Bharat': Maj Gen G D Bakshi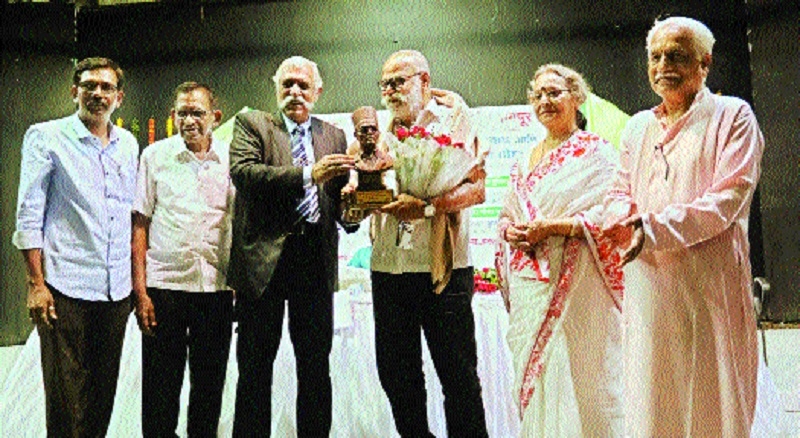 Maj Gen G D Bakshi honouring Bapu Jog and Meena Jog with Social Convergence Award at Scientific Society Hall on Tuesday. Also seen are Chandrakant Lakhe, Dr Atul Kulkarni and others. (Pics by Anil Futane)
Staff Reporter:
'Swatantryaveer Savarkar Social Convergence award was given to Purshottam alias Bapu Jog and Meena Jog at the hands of Maj Gen Bakshi at Scientific Society Hall on Tuesday.
Tejaswani Mahila Gaurav Puraskar was given to Jidnyasa Kubde
For the first time in Indian history after independence, the 2019 elections were won by Bharatiya Janta Party (BJP) on the basis of patriotism. Swatantryaveer Vinayak Damodar Savarkar, dreamed the formation of 'Akhand Bharat' and victory of BJP led by Narendra Modi has laid the foundation of Akhand Bharat, said Major General G D Bakshi SM, VSM a retired Indian Army decorated officer. Bakshi was addressing as a chief guest of Swatantrya Veer Savarkar Social Convergence Award distribution function organised by Swatantryaveer Savarkar Smarak Samiti at Scientific Society Hall on Tuesday. In a jam packed hall, Bakshi's lecture has infused 'Josh' and spontaneously people started giving slogans as 'Jai Hind', 'Bharat Mata Ki Jai' etc. Bakshi made the audience to realise the contributions of Veer Savarkar who always appealed Indians to inculcate sense of patriotism and respect the dignity of motherland. "India has faced barbaric attacks of Muslims.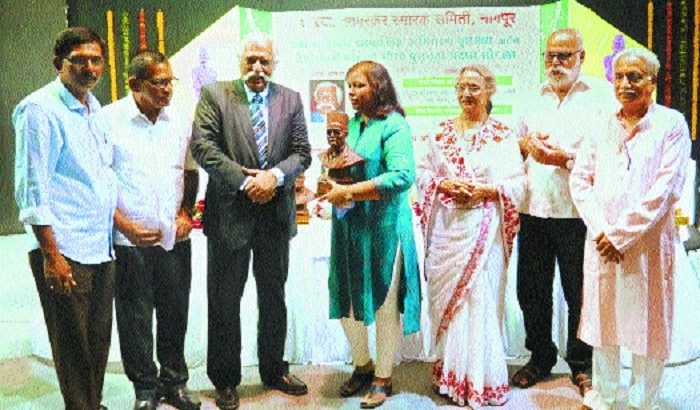 Jidnyasa Kubde with G D Bakshi after being honoured.
The country has under slavery of invaders for 800 years. The country once termed as 'Sone Ki Chidiya' was ruined by these invaders. Chhatrapati Shivaji Maharaj was the first who had courage to establish 'Hindavi Swarajya' and inspired the then youths to protect dignity of Maa Bharati," Maj Gen Bakshi stated. After Muslim rule, British took over the country.
They had sown the seeds of 'divide and rule.' They split India in the name of castes, creeds, religions etc. The first caste based census was held in 1872. British deliberately used these tactics because they were frightened by the first war of independence in 1857 as termed by Savarkar. British proved 'as long as there is a caste, there is no India'. British handed over the rule in the hands of so called leaders who followed their policies and ruled the country in the name of castes and religions. It is for the first time in 2019, BJP came to power without dirty politics in the name of caste, he added.
Bakshi alleged, after independence, the so called intellectuals in the country had distorted the history and preached 'De Di Hame Azadi Bina Khadag Bin Dhal'. India got independence not because of Ahimsa, but the 'Azad Hind Fauz' established by Netaji Subhash Chandra Bose. Bakshi also recalled the meeting of Netaji Bose and Savarkar on June 21, 1940 in Mumbai. The meeting was said to have changed Netaji's course of action. Bakshi narrated the history as: "After second world war, officers of Netaji Bose's Indian National Army were put on trial for treason, torture, murder. This series of court martial, came to be known as the Red Fort Trials. Indians serving in the British armed forces were inflamed by the Red Fort Trials. In February 1946, almost 20,000 sailors of the Royal Indian Navy serving on 78 ships mutinied against the Empire. They went around Mumbai with portraits of Netaji and forced the British to shout Jai Hind and other INA slogans. The rebels brought down the Union Jack on their ships and refused to obey their British masters. This mutiny was followed by similar rebellions in the Royal Indian Air Force and also in the British Indian Army units in Jabalpur.
The British were terrified." "After the Second World War, 2.5 million Indian soldiers were being de-commissioned from the British Army. The Indian soldiers were inflamed and could not be relied upon to obey their British officers. There were only 40,000 British troops in India at the time. Most were eager to go home and in no mood to fight the 2.5 million battle hardened Indian soldiers who were being demobilized. It is under these circumstances that the British decided to grant independence to India," he said.
Social Convergence Award conferred upon Purshottam Jog, wife Meena
This year's Social Convergence Award was conferred upon Purshottam Martand alias Bapu Jog and his wife Meena Purshottam Jog. Jidnyasa Kubde, founder of Atmadeepam Society was given Tejaswani Mahila Gaurav Puraskar at the hands of Maj Gen G D Bakshi. President of Swatantryaveer Savarkar Smarak Samiti, Chandrakant Lakhe presided over. Milind Kanade introduced the awardees and guests. Dr Ajay Kulkarni made introductory remarks. Dr Dinesh Khurge conducted the proceedings and Anil Deo proposed a vote of thanks. Gunwant Ghatwai and his team presented song 'Sagara Praan Talamalala.'