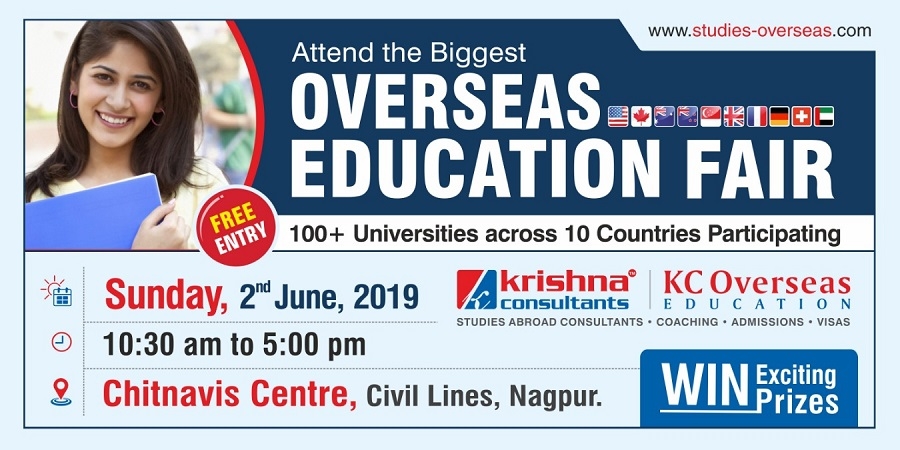 Business Bureau:
Krishna Consultants, pioneer in overseas education, which constantly endeavours to offer the best of the higher education options to study abroad aspirants, is organising the biggest 'Overseas Education Fair' for the second time in 2019. The 'Multi Country Education Fair' brings a gamut of top universities across the world under one roof. Walk in to Chitnavis Centre, Civil Lines, Near Hislop College, Nagpur, on Sunday, June 2, from 10.30 a.m. to 5.00 p.m. and avail the opportunity to meet the university delegates from 100+ top ranking universities across 10 countries.
Acquire exhaustive information from the university delegates about their respective universities, academic programmes, best career options and studies abroad in general. Gain an insight into the various study abroad programmes and apply for a bachelors or master's degree for Fall 2019 or Spring 2020 intake in USA, Canada, Australia, New Zealand, UK, Ireland, Singapore, Europe or Dubai. Grab the opportunity to avail an application fees waiver up to Rs 3,24,302 (conditions apply), on the spot scholarships (based on eligibility) and admissions without service charges apart from free US application process (with exceptions) and free profile evaluation for students with excellent GRE scores.
Entry to the fair is entirely free and there are discounts on spot enrolments for GRE, GMAT, SAT, ACT, TOEFL, IELTS and PTE (the pre-requisites for admissions abroad). Spot application assessment and counselling will enable the candidates to get an overview about the course options, admission criteria, application process, visa processing, scholarships, internships and job prospects in your desired study abroad destination.
One can also get information on post study work visa options. There will be separate desks for education loan where experts from State Bank of India, Bank of Baroda as well as loan experts from Krishna Consultants will guide the visitors. For further information visit Krishna Consultants' Head Office: Plot No. 10/2, IT Park, Nagpur, call on: +91-7722004113 / 0712-2222061/62/63, or drop a mail at: [email protected] One can also approach Krishna Consultants' Branch Office on 1st Floor, Block No. 112, Shriram Tower, Kingsway, Sadar, Nagpur, (91-08669670625) or drop a mail at: [email protected] Check out for free online registration on: http://www.studies-overseas.com