Congress leaders were confusing video games with surgical strikes Congress first ignored the strikes carried out under his Government and then opposed them. "Now it's me too, me too," Modi said using the English term
SIKAR/HINDAUN/BIKANER (Rajasthan)
PRIME Minister Narendra Modi on Friday mocked the "me too" Congress claim that its Government had also conducted surgical strikes across the Line of Control and accused the party of telling lies. Addressing a rally in Sikar, he suggested that Congress leaders were confusing video games with such strikes.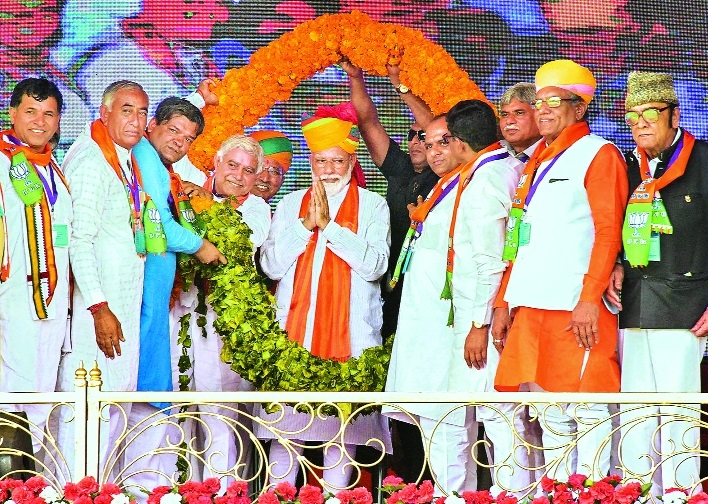 He said the party first ignored the strikes carried out under his Government and then opposed them. "Now it's me too, me too," he said using the English term. He also addressed public meetings in Hindaun and Bikaner, accusing Congress at both places of not acting strongly against terrorism. Only a 'mazboot' Government can do so, he said.
He expressed the Centre's solidarity with people in cyclone-hit States and said Rs 1,000 crore has already been released for relief work. Modi's remarks on retaliatory strikes against Pakistan-based terror groups come a day after the Congress claimed that six cross-border strikes were carried out during the UPA Government's term as well.
"They initially mocked and rejected the surgical strike but people had faith in me and they stood by me," the Prime Minister said, slamming the Opposition.
Modi said a Congress leader had claimed four months back that three surgical strikes were conducted during that party's term and now another leader is saying there were six. "The number increased from three to six in four months. By the time the elections are over, this will increase to 600. What does it matter when the strike is on paper? The Congress only tells lies," he said.