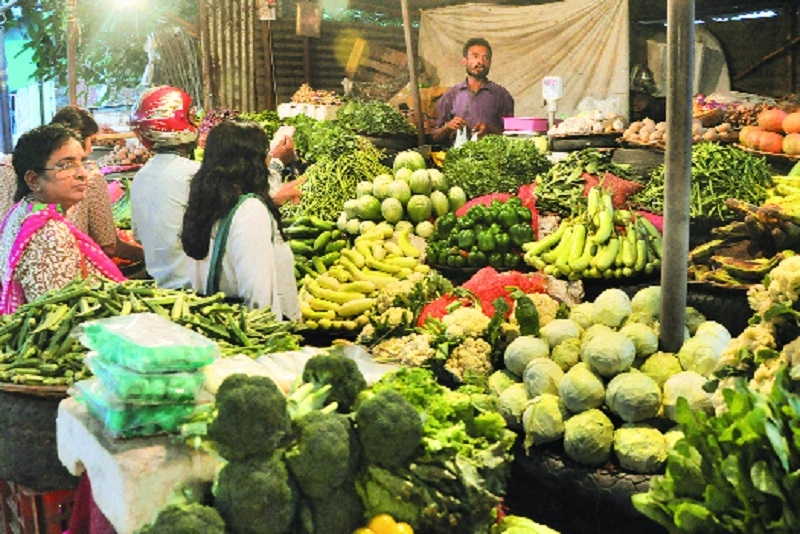 Business Bureau:
The local supply of vegetables from nearby areas of Nagpur has witnessed a significant increase that has resulted in prices falling in the wholesale market. The drop in vegetable prices has put smiles on the faces of housewives as they would not have to shell out more from their purses.
"The prices of vegetables have witnessed a fall of about 10 per cent to 15 per cent due to bulk local supplies as compared to prices a month ago," said Ram Mahajan, Secretary of Mahatma Phule Sabji Bazaar Association while talking to The Hitavada on Sunday. As a regular practice during the months of January and February, farmers with irrigation facility start to sow their fields and get ready for the summer season. When the crop is ready they realise better prices. Currently, about 140 to 160 small and medium size tempos and small trucks unload vegetables at the wholesale market.
Local farmers bringing their vegetables to the market have almost dried up due to which the prices of vegetables have increased to a large extent. Apart from local supplies, vegetables like Cauliflower are also being brought from Aurangabad, Tomatoes from Nashik, Capsicum from Bhilai, Tondri and Parwal from Chhattisgarh, Fenugreek Leaf (Methi) from Pandarpur, Lady's Finger from Raipur and various other vegetables are being unloaded at the Mahatma Phule Wholesale Market, he said.
The prices of vegetables being quoted at the wholesale market on Sunday are as follows: Brinjal Rs 12 per kilo to Rs 15 per kilo; Lady's Finger Rs 20 per kilo; Capsicum Rs 30 per kilo to 40 per kilo; Cabbage Rs 8 per kilo, Cauliflower Rs 12-15 per kilo; Spinach Rs 10 per kilo; Pumpkin Rs 8-10 per kilo; Cucumber Rs Rs 10 per kilo to 20 per kilo; Tomatoes Rs 15 per kilo; Carrot Rs 20 per kilo; Radish Rs 20 per kilo; Green Chilli Rs 35-40 per kilo; Cluster Beans Rs 30 per kilo; Bitter Gourd Rs 30 per kilo; Bottle Gourd Rs 30 per kilo, Parwal Rs 30-40 per kilo and Fenugreek Leaf Rs 30 per kilo depending on the quality, he said. However, it is expected that the local vegetable supplies will start to dry up at the market within two weeks time and the prices could start to harden, Mahajan pointed out.