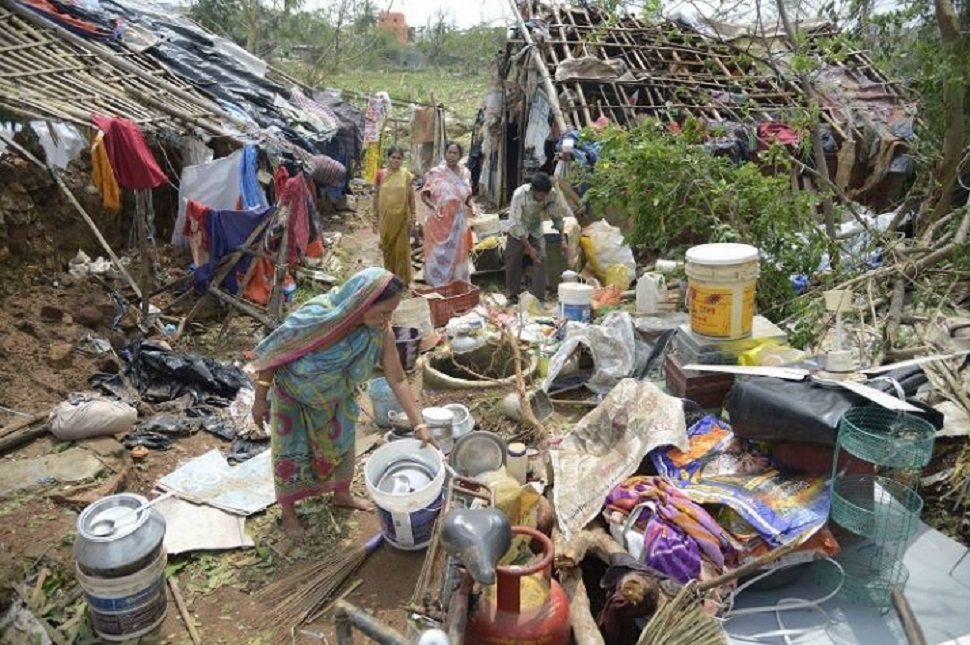 BHUBANESWAR:
Death toll rises to 34
PM to visit Odisha today to take stock of the situation
Maharashtra to contribute Rs 10 crore for Odisha relief and rehabilitation measures. Chhattisgarh to give Rs 11 crore. UP, Tamil Nadu announce Rs 10 crores each. Gujarat offers Rs 5 crore to Odisha
EVEN after two days of cyclone 'Fani' hitting the Odisha coast, the State Government is struggling to provide basic amenities to people in the affected areas. The office of Special Relief Commissioner (SRC) said massive relief and restoration work was underway to provide basic facilities - electricity, water supply and mobile connectivity - to the people. Prime Minister Narendra Modi will visit Odisha on Monday to take stock of the situation.
The death toll in cyclone Fani rose to 34 on Sunday, two days after the 'extremely severe' storm barrelled through coastal Odisha. Maharashtra Chief Minister Devendra Fadnavis on Sunday said his Government will contribute Rs 10 crore to Odisha for relief and rehabilitation measures post cyclonic storm Fani. "Maharashtra stands firm with the people of Odisha. The State Government will contribute Rs 10 crore towards the relief and rehabilitation measures in different parts of Odisha affected by cyclone Fani," he said. Chhattisgarh Chief Minister Bhupesh Baghel on Sunday announced a financial aid of Rs 11 crore to Odisha following cyclonic storm Fani to help the State carry out restoration work.
Uttar Pradesh and Tamil Nadu Chief Ministers on Sunday announced financial assistance of Rs 10 crores each for cyclone-hit Odisha. Chief Minister Yogi Adityanath and Chief Minister Edappadi K Palaniswami made the contribution from their respective State relief funds to help people affected by cyclone Fani that hit the state on Friday. Gujarat Government has offered an assistance of Rs 5 crore to Odisha following cyclonic storm Fani to help the state carry out restoration work.
On May 3, Prime Minister Narendra Modi announced that the Central Government released Rs 1,000 crores in advance to Odisha and other states to deal with the devastation caused by cyclone Fani. "I am in regular touch with these States. Rs 1,000 crore for relief work has been released as advance to deal with the situation. I want to assure that the whole nation and the Centre is with all those families and Governments," PM Modi had said while addressing an election rally here.
Puri and parts of Khurdha district, which includes capital city Bhubaneswar, are severely affected by the cyclone that hit the Odisha coast on Friday. More than 30 lakh electricity consumers in the state were affected, said SRC Bishnupada Sethi. "According to preliminary reports, cyclone 'Fani' damaged power infrastructure worth more than Rs 1,200 crore. Electricity to emergency services will be restored by Sunday evening," said Energy Secretary Hemanta Sharma. "It will take at least five to seven days to restore normalcy in power supply in Bhubaneswar.
However, it may take a bit longer for Puri where the devastation to power structures is maximum," he added. Announcing a relief package for those affected by the calamity, Chief Minister Naveen Patnaik has directed affected District Collectors to supply cooked food to people taking shelter at cyclone shelter centres for 15 days. He also assigned Chief Secretary A P Padhi to monitor relief and restoration work, Development Commissioner Asit Tripathy to look into drinking water and electricity issues and Agriculture Secretary Saurav Garg to maintain coordination with NGOs and international organisations. The Chief Minister on Sunday also announced special package for cyclone-affected people.