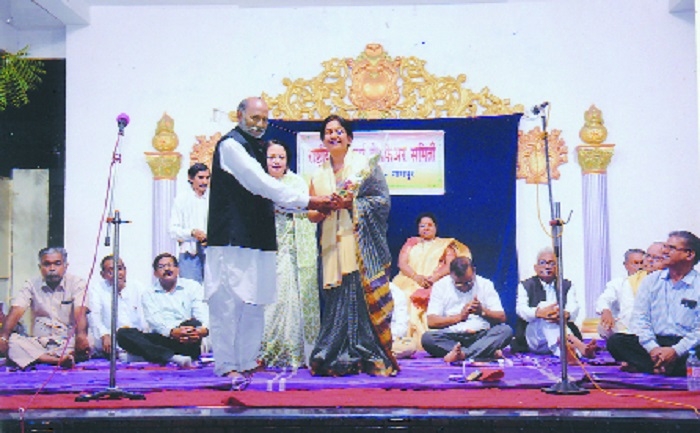 Business Bureau:
NATIONAL Pensioners Welfare Association recently celebrated International Workers Day and Maharashtra Day at Shree Sai Mandir Dharamshala, Ayodhya Nagar. Dr Sunita Lavange was the chief guest on the occasion. The other dignitaries were Dr Meena Deshmukh, Shreepatrao Mahajan, Govindrao Vairale, Tukaram Dekate, Dr Ashok Lavange. Mukund Muley, President of National Pensioners Welfare Association and Secretary of INTUC presided over the function. In her address, Dr Lavange said that medical service to the people is one of the great social work.
Explaining the importance of health and care to be taken after retirement, she said, "There is need to take care of diet in old age." She appreciated National Pensioners Welfare Association for recognising the work of doctors. She was felicitated with shawl, shreefal and floral bouquet during the programme. Mukund Muley in his address highlighted the relevant issues of the pensioners and requested the members to remain united.
"We have to highlight our problems unitedly so that Government should take cognisance," Muley said. The programme was compered by Gangadhar Nagpure. Vote of thanks was proposed by Prakash Gedam. Also present were Dada Zode, Dr Arun Ghaywat, Purshottam Kohadkar, Krishnarao Umak, Kalpana Vinchurkar, Nagesh Dande, Mahadeo Nagrale, Govindrao Pimpalkar, EPS pensioners, senior citizens and workers in large numbers.