The objective behind organising the show is to promote Vidarbha's leading travel agents and tour operators in greater Mumbai area
Business Bureau
CENIN Travels will be organising first-of-its-kind road show - 'Tiger Country Central India' in Mumbai. The objective behind organising the show is to promote Vidarbha's leading travel agents and tour operators in greater Mumbai area.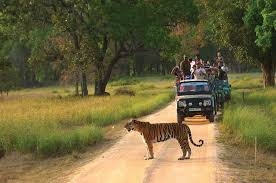 Tiger Country India has an unique global identity in the world. There is no other region which is home to more than 400 tigers, living in natural habitat.
The roadshow will be held on June 3 at Hotel Sahara Star, near domestic airport from 10 am and is being supported by Directorate of Tourism Maharashtra, Madhya Pradesh Tourism Board and Maharashtra Eco-Tourism Development Board.
More than 150 travel agents and tour operators from Mumbai have registered for the event, where 16 resort owners and service providers from Tiger Country has taken stalls to promote
their facilities. B2B meetings are scheduled throughout the day between the travel agents and resort owners. Jai Kumar Rawal, Minister of Tourism Maharashtra will inaugurate the Show at 10.30. P Kalyan Kumar, M D Eco-Tourism Development Board, will be the chief guest.
Vinita Singal, Secretary Tourism and Dilip Gawade will grace the occasion as the guest of honour for the event.