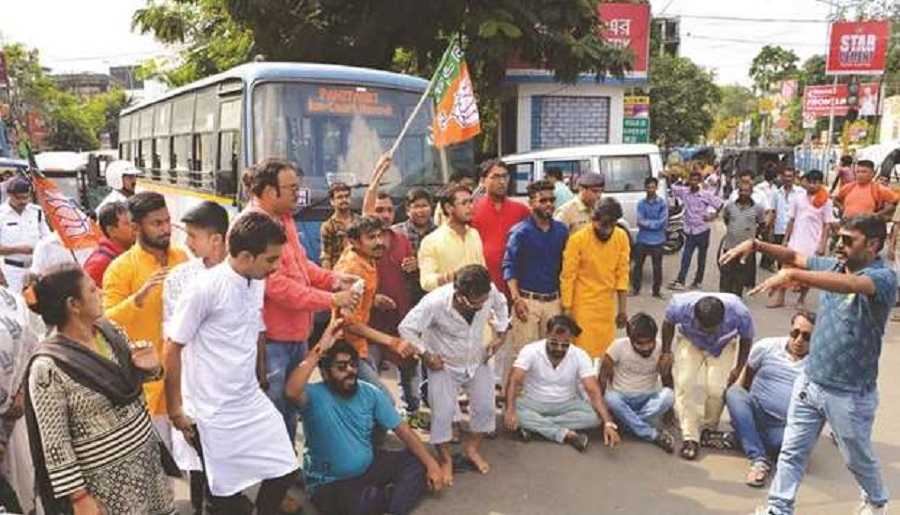 BJP supporters shout slogans as they block a road in Siliguri during a protest against the killings at Sandeshkhali on Sunday. (AFP)
Kolkata;
AT least eight persons were allegedly killed and several others injured and missing following a clash between West Bengal's ruling Trinamool Congress and the BJP workers in North 24 Parganas, sources in both parties claimed on Sunday. While the State BJP sources claimed that five of their activists have been shot dead by the Trinamool backed men and 18 others have gone missing, a senior Trinamool Congress leader alleged three of their party workers have been killed in a bloodied clash that took place in Hatgachi area under Sandeshkhali Assembly constituency on Saturday. Graphic images of those slain in the Sandeshkhali clash was posted on social media.
"Mamata Banerjee is directly responsible for unleashing violence against BJP workers. We will be reaching Union Home Minister Amit Shah to apprise him of the Sandeshkhali killings," BJP leader Mukul Roy tweeted late on Saturday. Police has so far confirmed deaths of three political workers comprising two from BJP and one from Trinamool Congress in the incident. According to locals, the clash between the two groups started over the forceful removal of BJP's flags on Saturday afternoon. It soon took a violent turn and bullets were flying. Mukul Roy called on Union Home Minister Amit Shah on Saturday night and apprised him of the situation.
"A team of BJP MPs will visit the area on Sunday and submit a report to Shah," he said. State BJP General Secretary Sayantan Basu had on Saturday claimed three party workers -- Pradip Mondal, Tapan Mondal and Sukanta Mondal -- were killed and five other functionaries injured in the clash. BJP State General Secretary (organisation) Subrata Chattopadhyay said a fourth BJP worker Debabrata Mondal also died of bullet injury. Later, another injured BJP worker Shankar Mondal's body was found, who died early on Sunday, BJP sources said.
The Trinamool meanwhile said its worker Qayum Mollah was stabbed to death, two others were thrown into the water. "During a booth-level meeting of our workers in Hatgachhi, some miscreants backed by the BJP, attacked them. Mollah, a 26-year-old Trinamool worker, was dragged out of the party office and stabbed to death," state Minister and Trinamool's district President Jyotipriya Mallick claimed. "Two other workers were thrown into the river. Eighteen Trinamool workers, including six women, are injured," he said. "I would like to ask the BJP whether we have the right to hold a meeting or not." Union Minister and BJP leader Babul Supriyo tweeted he was "deeply disturbed" by the murders of BJP functionaries. "The people of West Bengal will very soon put an end to TMC's atrocities," said Supriyo.
W Bengal police stop hearses carrying slain workers' bodies
SANDESHKHALI (WB)
THE BJP tried to take the bodies of two of its supporters to Kolkata from Basirhat in North 24 Parganas district, but the party workers were stopped by police, leading to heated exchange of words between the two sides. The BJP leadership later decided to take the bodies to the village of the two slain party workers. In an advisory to the West Bengal Government, the Union Ministry of Home Affairs expressed "deep concern" over the continuing violence and asked it to maintain law and order. West Bengal Governor Keshari Nath Tripathi has also expressed concern over the violent clashes between BJP and TMC workers in the State. Chief Medical Officer of Basirhat D Mukherjee said bodies of three persons were brought to Basirhat Hospital Saturday night.
The bodies have been identified as that of Sukanta Mondal, Pradip Mondal and Kayoom Mollah. While Sukanta and Pradip were BJP supporters, TMC leaders said Kayoom was an active worker of their party. State BJP General Secretary Sayantan Basu Saturday said three party workers — Sukanta Mondal, Pradip Mondal and Shankar Mondal — were shot dead, while state minister Jyotipriyo Mallick maintained that TMC worker Kayoom Mollah was killed in the clash. Shankar Mondal and Debdas Mondal of Bhangipara village are missing, local BJP leaders claimed.
The police and the district administration have remained tight-lipped about the incident and have not made any statement on the number of deaths. A huge contingent of police is posted at Bhangipara village under Nyajat police station where the clashes took place on Saturday evening during a TMC rally. Internet service has also been suspended at Nyazat. BJP to observe black day in West Bengal today: BJP national secretary Rahul Sinha on Sunday said that his party will be observing a "black day" in West Bengal on Monday in the wake of the killings of BJP workers. The BJP on Sunday wanted to take the bodies of two slain workers to the party state headquarters in Kolkata after the post-mortem examination, but the police stopped the hearses at Minakha by placing its vehicles blocking the state highway. An earlier attempt of the police at Malancha to stop the party failed as the BJP workers forced their way through. "The families have given their consent (to take the bodies). The police cannot stop us like this," West Bengal BJP president Dilip Ghosh, who was accompanying the hearses, said.